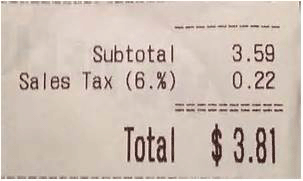 "We need to send a clear message to the county that we won't be caught flat-footed again," said Mayor Pro Tem Mitch Colvin. That was a year ago when City Council begrudgingly agreed to a temporary sales tax revenue distribution method. In North Carolina, county governments have the authority to divvy up sales tax money to cities and towns. They must use one of two methods stipulated by the state; per capita population or ad valorem property basis. The population method currently in use tends to favor the City of Fayetteville and towns.

But there's a caveat that Mayor Nat Robertson wants done away with. The city agreed in 2004 to rebate 50 percent of new city sales taxes collected in the big bang annexation area. About 46,000 residents on the west side of the county were taken into the city, significantly increasing sales tax collections for the city. Over time, the city has refunded about $65 million, mostly to county government, with smaller amounts going to the towns. Robertson wants to phase out the rebates over the next 14 years. Under his plan, if county commissioners were to agree to it, the 50 percent revenue refund would be reduced by 10 percent a year over 14 years, after which the city would no longer rebate any tax receipts. "We just want them to do the right thing," Robertson said.

In January of last year, county commissioners began talking about possibly changing the formula. The county threatened to adopt the other distribution method, which doles out revenue by tax district. That would benefit the county and financially hurt the city and towns. "It would be political suicide" for commissioners to make any changes," Colvin said, noting that most of the county's voters live in Fayetteville and the small towns. Commissioners and City Council members agreed to a truce for three years, with the condition that the boards begin new negotiations this month.

County Commission Chairman Glenn Adams is suggesting that a joint committee of local government officials meet to hash out a new deal. It would go into effect in July, 2019. His idea is that a small group of six elected officials, including two from Fayetteville, one each from Hope Mills and Spring Lake and two members representing the county's small towns come together to begin negotiations. Adams hasn't said how many commissioners would join in the discussions, but he hinted at three. Fayetteville decided instead to place four of its councilmen on the committee. "The problem is they would have more members on the committee than we would," Adams said. "Clearly four is not going to work. It's just a working committee, and it's only about coming up with proposals," he added.

"It's a great opportunity for compromise," Councilwoman Kathy Jensen said. "If they don't want to compromise, we'll figure it out," she added.