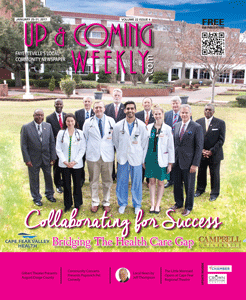 Very soon, future medical residents will benefit from a local collaboration that's been years in the making.

Over six years ago, an issue was brought to light within the Cape Fear Valley Hospital System. It needed more residents. Local politicians, civic leaders and those with a vision for our community worked hard to establish a viable solution through the residency program within Campbell University's medical school.
It was a no-brainer for Cape Fear Valley Health System's CEO Michael Nagowski. The hospital wanted to develop residencies and Campbell University wanted to develop medical students. The partnership benefits many in our surrounding community from the underserved patients needing care in the region to medical students to the University and to our community.
With former experience as the president of Buffalo General Hospital, Nagowski was no stranger to drawing in over 400 residents in the successful residency training facility in collaboration with the University of Buffalo. He was the man to bring the local vision to fruition.

The University of Wisconsin Population Health Institute produces health outcome rankings by county across the United States. As expected, Orange, Durham and Wake counties with the state's largest academic medical centers rank near the top for health outcomes. Cumberland County is ranked 73 out of 100 counties. Robeson and Bladen counties drop even lower.
"All of the counties around us that feed into CFVHS are underserved," said Representative John Szoka, a key executor on the collaboration. "There aren't enough doctors for the people in Bladen, Robeson and Sampson counties."

Given the fine academic medical centers in North Carolina, it was shocking to learn that even though schools are producing a large number of physicians in our state, generally around 25 percent of our counties do not have an obstetrician, a general surgeon, a pediatrician or psychiatrist. "A quarter of our counties don't have core services," said Nagowski. "Some of the most basic kinds of physicians that you need."
The economic impact that will benefit these underserved regions in our community is huge during a time when there is a recognizable physician shortage in southeastern North Carolina. "The data in studies show that the majority of residents stay within a 50-mile radius of their residency location," said Nagowski. "When you are somewhere for 10 years, that's home."

We've already seen this happen successfully in our city and state with graduates of Campbell University's law program. Data shows that 90 percent of graduating lawyers from Campbell practice in rural areas.

"Campbell has a strong commitment to excellence and they have built a superb law school that attracts great students and professors. The result has been an enormous impact on the legal profession in Cumberland County and throughout North Carolina," said Representative Billy Richardson.
"Campbell University has the same commitment to excellence with this program. The result of which will be highly skilled doctors and medical professionals for Cumberland County and the region."

Economic Impact
The residents' average starting salary is around $50,000 a year upon graduation, plus benefits. "We are chasing 350 new, well-paying, benefitted jobs," explained Nagowski. "We believe this is at least $30 million a year of graduate education funding."

The groundwork is laid; 157 positions are already approved. To put it in perspective, for a general surgeon, it is a five-year program that will produce 20 residents. Each year, there will be four students in that year group's pipeline. Although the residency program is in the nascent stages, program organizers are actively working on the next wave. As far as timelines, state funding was received and the residency infrastructure development is happening now.
"These new jobs will be, quality, high-paying jobs, not to mention the support jobs and medical devices and tests they will attract along with the countless professors and mentors," said Rep. Richardson. "This will bring numerous professionals who will be there to support the students ranging from nurses to x-ray technicians to professors."

Program organizers have conducted over 200 interviews with fourth-year medical students from around the country from which the first class will be selected. This February, 'the match' occurs for the residents where they rank CFVHS in their order of desire in a national databank. Then the outcomes are released for the next week's phase, 'the scramble' where the students and hospitals finalize decisions. "By the end of March, we'll know who our first class is," said Nagowski. "The great news for us is that we are only interviewing medical students in the top 50 percent of their class, we are going to set the standards very high." The residencies begin in July.

Health care and reimbursements can be confusing. For Medicare and Medicaid, Cape Fear Valley was categorized as an urban hospital that brings in higher reimbursements, but the issue is that a new residency program cannot be stood up while CFVHS operates under the urban designation. By choosing to go to a rural status, the classification was changed.

Since CFVHS falls into a rural regional referral center, meaning it takes care of a rural area, it met the exception to policy and could launch this new residency program after being reclassified as a rural health system.
Look for legislative relief through Rep. Szoka and Senator Wesley Meredith, they let the federal government know the designation was changed along with securing a $7 million appropriation for the program. Not an easy task. Over the past six years, the state has agreed to fund the $7.7 million and Campbell University funded $3 million.

"The benefit to the state is huge," said Rep. Szoka. How they sold it is that CFVHS is filling an unmet need. There are 350 doctors in the program in specialties where there are shortages in North Carolina.

CFVHS worked with Campbell University to get the funding through the legislature, Rep. Szoka took the House, and Sen. Meredith took the Senate, convincing them of the fact that the economic impact doesn't just benefit Fayetteville, but the entire region of southeastern North Carolina.

"The economic impact of this is tens of millions of dollars every year," said Rep. Szoka. "Not just in direct salaries, but every time you spend a dollar, 70 percent of it stays in the local area, and you get the velocity of money going around. All of a sudden, it's worth a $60 million a year benefit."

Not only is Fayetteville a desirable place to live, work and play, collaborations like this make both the hospital system and universities more marketable.
"It will be very much a symbiotic relationship with the residents benefiting from the City of Fayetteville as much as our city will benefit from them. The unique demographics of Fayetteville and Cumberland County will enhance the residents' encounters as they gain experience in treating a broad range of health issues and emergencies," said Sen. Meredith. "The citizens of Fayetteville will benefit from the infusion of high-quality health care providers. And, of course, Fayetteville's history, heroes, and a hometown feeling will encourage these doctors to remain in our community, making Fayetteville their permanent home."

There are many facets to this story and how this successful program is going to impact local health care and the quality of life in our community. This is cooperation, collaboration and leadership at its best. Next month, we'll keep you informed in this three-part series featuring more updates, interviews and insights provided by CFVHS staff and management. And finally, in March, we'll provide a snapshot of the Campbell University students selected from the first residency class.