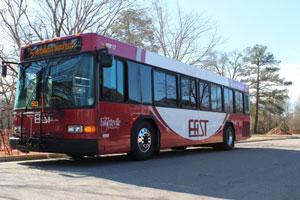 Fayetteville City Council is concerned about the accidental death of a teen who died after being struck by a car seconds after she disembarked from a FAST bus. The mishap in late January occurred on Murchison Road when Miyosha Noel-Davis, 16, stepped into traffic from the front of the bus and was hit by an oncoming car. She died several days later at UNC Medical Center in Chapel Hill. "Our training teaches our bus operators not to have passengers cross in front of the bus," said Randy Hume, Transit Director. He said signs are posted inside buses saying "CAUTION-Do Not Cross in Front of the Bus." City councilwoman Kathy Jensen declared teenagers cannot be expected to use caution. Councilman Larry Wright suggested FAST coaches be equipped with extended crossing arms like those on some school buses. They discourage passengers from crossing in front of buses. They are asked to use the rear door when getting off buses to allow people who are getting on the bus to use the front door, said Hume.
City to Recover Haz Mat Costs
The Fayetteville Fire Department will be reimbursed for costs associated with a major gasoline tanker truck accident early this month. Fire crews found a fully-loaded tanker truck on its side on Murchison Rd near the future I-295. The tanker carried 8800 gallons of gasoline, according to Battalion Chief David Richtmeyer. A fuel leak was discovered and the department's hazardous materials team was called to the scene. The state's Haz-Mat Regional Response Team-3, which is manned by Fayetteville Firefighters, also responded because the situation "required a higher level of equipment and manpower for mitigation," said Fire Marshal Michael Martin. He did not indicate how much fuel was spilled before it could be contained. The gasoline was pumped into another tanker in a procedure that took several hours. The state will bill the owner of the truck, and the city will be reimbursed for its costs. There were no injuries. State statutes and a local ordinance allow the fire department to recover costs associated with dealing with hazardous materials incidents.
Army Pharmacy Opens
The new Womack Army Medical Center Pharmacy Annex opened for business this month. It's fully operational, providing refill distribution services plus hard copy and electronic prescriptions. It has also assumed the weekend pharmacy mission from the main outpatient pharmacy at the hospital which no longer operates on Saturdays. The annex is located off Reilly Road, in front of the mini-mall across the street from the Iron Mike Conference and Catering Center. "The new pharmacy will improve efficiency by providing everything right there at one location," said Col. Jorge Carrillo, Chief of the Department of Pharmacy, WAMC. The new pharmacy also has a drive-thru window for refill prescription pickup.
Weed for Vets
A clinical trial designed to determine whether smoking marijuana is an effective treatment for PTSD among veterans is underway. The study will evaluate the safety and effectiveness of using medicinal marijuana to help vets manage their symptoms, officials with the Multidisciplinary Association for Psychedelic Studies said in a news release this month. The study is funded by a $2 million grant from the Colorado Department of Public Health and Environment. Colorado's Amendment 64 was passed by voters in 2012 which led to the legalization of marijuana in 2014. The new study will monitor four levels of marijuana potency in 76 veterans. The data gathered is intended for clinicians and legislators who will consider whether marijuana is an appropriate treatment for PTSD. Volunteers will complete 17 outpatient visits over a 12-week period, with follow-up visits in six months. "As this is the first placebo-controlled trial of cannabis for PTSD, we are breaking important ground needed to identify improved treatment options for veterans with PTSD," said Marcel Bonn-Miller of the University of Pennsylvania's Perelman School of Medicine. The research was approved in 2014 by the federal Health and Human Services Department.
College Fair
A college fair for rising freshmen among historically black colleges and universities will be held in Fayetteville on March 18. It will be held at Smith Recreation Center, 1520 Slater Avenue, from 10 a.m. to 3 p.m. Program highlights include students being able to connect directly with college admissions representatives to learn about local scholarship opportunities. And they'll be able to attend college planning seminars. A light lunch will be served. There are 11 historically black colleges and universities in North Carolina, including our own Fayetteville State University.