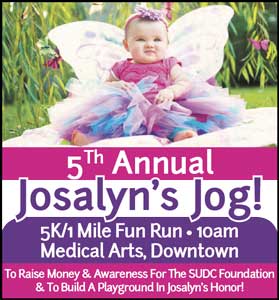 Josalyn Legg died five years ago. She was just 15 months old. "We don't know why she passed away," said Josalyn's mom, Laura Legg. "You hear about Sudden Infant Death Syndrome but not Sudden Unexpected Death in Childhood. It is not as prevalent as SIDS, but when it does happen in children over 12 months, it's called SUDC.
To honor Josalyn's memory, her parents Laura and Duane Legg organized a 5k run/1-mile walk. The Fifth Annual Josalyn's Jog will be held on March 11 at the Medical Arts Building in Downtown Fayetteville.
"The year after Josalyn died, we decided to organize a run in her memory to raise money to build a playground and to support the SUDC Foundation," said Legg. The SUDC Foundation "is dedicated to increasing the awareness of sudden unexpected deaths in childhood and funding crucial research to better understand and prevent these tragedies. We are the only organization worldwide devoted solely to the needs of families and professionals touched by unexpected/unexplained deaths of children," according to SUDC.org.
The family is trying to partner with the Cumberland County Parks and Recreation Department to build the playground. "I didn't realize how expensive playgrounds are," said Legg, noting that a medium-sized playground costs about $100,000.
While the main event of the day is the 5k, there is also a 1k walk and activities the entire family will enjoy. The route is the flattest and fastest in Fayetteville, and the start time is a little later than most races. "We decided to start it at 10 a.m. so that people with little ones could still come out and participate in the race," said Legg. "And even if you don't want to be in the race, we have plenty of other things going on that will make it a fun day."
Guests can enjoy a rock climbing wall, face painting, a bounce house, food vendors and more.
Several organizations, including local running clubs and churches come out to support the event. "Because it is a community event, a lot of people come together to make it possible," said Legg. "You find out how many good people there are that want to come out and help."
This year, local schools are showing support as well. Students at Howard Hall have been training for this event, and Legg is expecting more than 100 students from the school to show up for the race. She noted that for many of the students it is their first 5k. Midway Middle School from Dunn is also planning to participate.
Registration for the event is $25 for 1-mile participants and $30 for the 5k. Age groups are 10 and under; 11-14; 15-18; 19-24; 25-29; 30-34; 35-39; 40-44; 45-49; 50-54; 55-59; 60-64 and 65 and above. Race packet pickup and late registration are at La Cocina Mexican Restaurant in Hope Mills on March 10. Same-day registration closes at 9:45 a.m. on March 11. To register online, visit http://www.active.com and enter Josalyn's Jog in the search bar. To learn more about Josalyn's Jog, visit https://www.facebook.com/JosalynJog/?fref=photo.