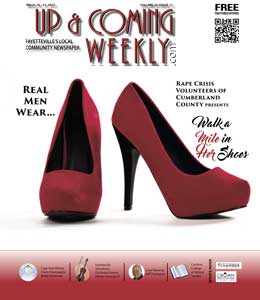 Rape Crisis Volunteers of Cumberland County presents "Walk a Mile in Her Shoes" on Friday, March 24 at 7 p.m. at the Capitol Building on Hay Street. RCVCC offers free, confidential services to any person whose life has been affected by sexual violence. Services include a 24-hour Crisis Hotline; 24-hour emergency room responders; counseling; support groups; courtroom advocacy; community awareness; and an address confidentiality program.
"The purpose of the walk is to have public awareness of sexual violence and how we can all come together and help prevent it," said Ze Surratt II, certified victim practitioner and military liaison.
"We do it through men walking in red high-heeled shoes to get a feel for what it is like as a female for five minutes when we wear them for hours a day and be able to feel like they can contribute to conquering sexual violence by putting on these red high-heeled shoes." Suratt added that they have been doing this event since 2010 and last year's walk had the highest number of walkers, which consisted of over 300 men.
The walk is from the Market House to the AIT building. "We have had Chiefs of the Fire Department, Chiefs of Police, directors of Cape Fear, military men, district attorneys and other high influential people walking in heels to show their support to end sexual violence," said Surratt. "Our reported number of sexual violence victims are over 400 per year." Surratt added that the victims that come to them may not necessarily be the individuals that report to law enforcement and vice-versa.
"This event is so important for many reasons, first for the victims. Men from our community come out and take a stand against sexual violence – policemen, firemen, soldiers, politicians, community leaders, our neighbors and our friends are all out walking," said RCVCC Executive Director Deanne Gerdes. "For a victim ... that is priceless. They are in the crowd watching and cheering on the walkers! For my staff and advocates, we know we are not alone in preventing (sexual violence) and acknowledging and advocating for victims. Rape is such an ugly word, ugly thought. Raising money for the agency is hard. But this event is for the community to help us financially and to let victims know that we are here and we care."
The victims are mainly females between the ages of 14-24. There are also a small number of male victims. "Our youngest victim was four months old and our oldest victim was 96 years old," said Surratt. "We see a full range of individuals in Cumberland County and other counties." Surratt added that most the time a rape is committed by someone that is known – even if it is the slightest acquaintance – and it is more likely to be someone the victim has encountered at least once in their life. It is usually someone the victim thought they knew well and felt comfortable with.
Rape is one of the most underreported crimes. "Think about the shame that goes along with this crime," said Surratt. "The victim feels like that maybe they should have known better, they could've done better or somehow they could have prevented what happened to them." Surratt added that because they take on that blame of what happened to them, a lot of victims will not come forward to report it.
The agency's services are not contingent on a police report. You can call or walk into the agency and get help immediately free of charge. If you are a victim of rape or know someone who is, call the National Sexual Assault Hotline at 1-800-656-HOPE. Sponsors are needed for the event. Registration begins at 6 p.m. The fee is $20 to register for the walk and $5 to rent a pair of red high-heeled shoes. For more information, call 485-7273.
An average 233,986 Americans age 12 and older are sexually assaulted each year.
Every 2 minutes, someone in the U.S. is sexually assaulted.
Who Are the Victims?
1 out of every 6 American women has been the victim of an attempted or completed rape in her lifetime. Among all victims, about nine out of ten are female.
1 out of every 33 American men has been the victim of an attempted or completed rape in his lifetime. About 10 percent of all victims are male.
Age
Age of sexual assault victims:
15 percent are under age 12.
29 percent are age 12-17
44 percent are under age 18
80 percent are under age 30
Ages 12-34 are the highest risk years
Girls ages 16-19 are four times more likely than the general population to be victims of sexual assault.
Gender & Race
Estimated persons raped in lifetime by gender and race:
Women
17.7 percent of white women
18.8 percent of African-American women
6.8 percent of Asian / Pacific Islander women
34.1 percent of American Indian / Alaskan Native women
24.4 percent mixed race women
14.6 percent of Hispanic women
Men
2.8 percent of white men
3.3 percent of African-American men
4.4 percent of mixed race men
The sample size was too small to estimate for Asian/ Pacific Islander and American Indian / Alaskan Native men
The Offenders
Almost 2/3 of sexual assaults are committed by someone known to the victim.
23 percent of rapists are an intimate
3 percent are another relative
38 percent are a friend or acquaintance
31 percent are a stranger
6 percent are unknown
Only about 6 percent of rapists ever serve a day in jail.
The average age of an arrested rapist is 31 years old.
0.6 percent are 17 years old or younger
54.6 percent are 18 to 29 years old
28.6 percent are 30 to 39 years old
8.9 percent are 40 to 49 years old
7.3 percent are 50 years old or older
Marital status of arrested rapists
22.1 percent are married
1.2 percent are widowed
28.5 percent are divorced
6.2 percent are separated
42 percent are never married