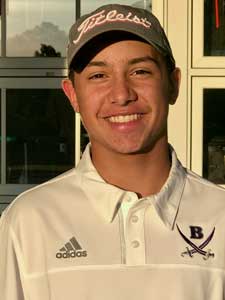 A year ago, Jack Britt's Spencer Oxendine was the only golfer in the Mid-South 4-A Conference to finish the season with an average round under 80. To say he's picked up where he left off this year is an understatement.
Through three rounds in 2017, Oxendine has yet to shoot a round in the 80s. His last round, a 76 on March 21 at Stryker Golf Course, was his worst of the year. In spite of that, he's been a medalist in all three weekly Mid-South tournaments.
This story will publish before the fourth tournament of the year at Upland Trace.
Jack Britt golf coach Joe Myrtle said he's been most impressed with the way Oxendine is striking the ball this season, and how he's starting to manage the course better than he did during his freshman year last season.
"He played a lot of tournament golf over the summer,'' Myrtle said. "He learned how to play at a higher intensity with better golfers. He found he could score better, but he also saw at times if he lost his focus it can go away real quick.''
Myrtle said the important thing Oxendine has to realize is, like major league baseball, the golf season is a marathon, and a hot streak in the first few matches won't continue if he doesn't pace himself and continue to fine tune his game.
"I'm more concerned with him working on his short game,'' Myrtle said. "As long as he's striking the ball, his short game can help him out a ton.''
In the weeks ahead, Myrtle said he'd like Oxendine not to focus so much on his score as how many fairways and greens he's hitting.
Oxendine feels the courses he's played so far this golf season aren't as tough as the ones he tackled during his run of summer competition. "I use high school golf as a way to get back into a competitive mentality,'' he said. "I should be playing much better. I shot better on tougher courses over the summer.''
The summer golf helped Oxendine toughen his mental approach to the game so he could place himself into competitive situations over and over and get used to it.
He will continue to focus on practice, going to Pinehurst every other weekend and working on his game there.
"I hope I can shoot a sub-70 round,'' he said. "That would be nice. With the courses we've got left, I'm very confident.''
Last year, Oxendine advanced to the N.C. High School Athletic Association regional tournament and qualified for the state tournament where he finished in the top 30.
Myrtle thinks a repeat is possible, with Oxendine finishing as high as top 20 or even top 15.
"You never know,'' Myrtle said. "One good day and he could be in
the top 10.''