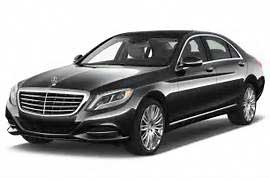 With Fayetteville's Porsche automobile dealership having moved to Wilmington last month, the Pinehurst Automotive Group is preparing to make a major reinvestment in Fayetteville. Group Dealer Principal (owner) Tom Holderfield owns the local Mercedes dealership, which he acquired in 2014 from businessman Dixon Dickens. "It's one of six franchises in his group," said General Manager Greg Dudak, who added that the company isn't concerned about the loss of Porsche. The luxury brand has a select clientele with average incomes of $400,000 a year. "We sold 5 cars a month on average, while we sell 350 new Mercedes annually," he said, "plus another 380 used vehicles a year."
The back story behind the loss of Porsche is that it "provides (Pinehurst Automotive Group) an opportunity to expand our Mercedes brand" and service to the Fayetteville community, said Dudak. He added that the company did not renew its Bragg Boulevard lease and will be moving to the corner of Glensford Drive and Red Tip Road upon completion of a new facility in about 18 months.
Dudak announced that Holderfield is finalizing plans for a $15 million state-of-the-art showroom with modern customer hospitality amenities and expanded service and parts departments. The dealership will be built on a seven-acre tract purchased from SRW Builders for an undisclosed price. Site plans have not yet been submitted to the city. Dudak said this will greatly improve the franchise's profile in Fayetteville and will allow the company to increase its new car inventory. Officials added that the dealership wants to place emphasis on its Sprinter line of Mercedes-Benz commercial vans. Mercedes of Fayetteville is among the corporations "best of the best." It is in the top 15 percent of Mercedes-Benz franchises in the nation. "Maintaining that distinction is our focus for the future," Dudak said.
Pinehurst Automotive Group specializes in mid-range American-made and import vehicles. Asked about the loss of jobs with the closing of the Porsche dealership, Dudak told Up & Coming Weekly, "We've got a place for almost everyone." The combined dealership had 58 employees. "All but three chose to stay with the company or take positions with the Porsche dealership in Wilmington." Owner Tom Holderfield is a Raleigh native and has lived in Pinehurst for 30 years. He joined the automotive industry at the age of 25 and currently serves as the General Managing Partner of the Pinehurst Automotive Group, overseeing 6 franchises in Moore County and Fayetteville. When he acquired the Mercedes franchise, Holderfield was quoted as saying, "Cumberland County is the fourth largest new car sales area in the state behind Mecklenburg, Wake and Forsyth counties. There is also a high concentration of … Mercedes-Benz owners in Moore County, which accounts for about 15 percent to 20 percent of the business at the dealerships."