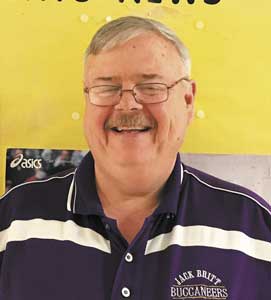 Leo Durocher, the great Los Angeles Dodgers manager, was wrong.
But in his defense, he never met Jack Britt High School wrestling coach John DeWeese, or he would never have uttered that famous quote, "Nice guys finish last."
DeWeese, who recently announced his retirement as the only wrestling coach Jack Britt has ever had, ranks as one of the nicest guys I've met during all my years covering high school sports.
Even on his worst days and in his toughest wrestling matches, I never saw DeWeese without a smile on his face or sharing a laugh with one of his wrestlers or a friend.
As he heads into retirement, he will easily rank among the greatest wrestling coaches Cumberland County has ever known, right up there with Cape Fear's Mike Stanbridge and Seventy-First's David Culbreth.
It was a pretty amazing run for a guy who said he got into wrestling almost by accident. It was when he was at Lewis Chapel and the late J.C. Hawk came to DeWeese almost in tears saying the school's wrestling coach had left and the team didn't have a coach.
Hawk promised to teach DeWeese everything he knew about the sport if DeWeese would be the coach.
"That night I went home and ordered every VHS tape I could find on wrestling, which was about four,'' DeWeese said. "That was about 28 years ago.'' It was with Culbreth as an assistant at Seventy-First that DeWeese first got his start at the high school level. He helped Culbreth coach two of the greatest high school teams in county and state history in the late 1990s at
Seventy-First.
DeWeese still remembers coming to Jack Britt with Culbreth when Britt principal
Conrad Lopes hired them both away from Seventy-First.
Before wrestling season started, Culbreth decided to take a job with a local sporting goods store, but still promised he would help DeWeese with the team. At the first practice, DeWeese said Culbreth walked in, spoke to the team, pointed to DeWeese and said "There's your coach,'' and left.
The rest is history. DeWeese won some 13 conference titles and only lost three home conference matches in 17 seasons. After a couple of near misses he guided Britt to the 2015 4-A dual team championship.
He's had numerous individual state champs, but he said his proudest accomplishment is having three of his former wrestlers, Bradley and Andrew Wanovich and Spencer Nick, currently attending the U.S. Military
Academy at West Point.
"I happened to be in the right place at the right time with some really good people and parents,'' DeWeese said. "It's about them.''
Not entirely. It's also about a coach who gave his best, built a dynasty and kept a smile on his face while doing it.