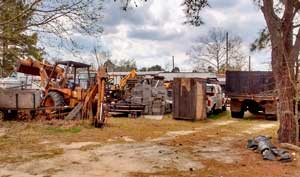 Those Dam Repairs
Fayetteville City Council wants to update its policy governing the repair of local dams. Several dams were breached during Hurricane Matthew six months ago. Council's discussion of the matter last week was eerily similar to what Congress went through while dealing with a new health care proposal. Councilman Jim Arp made three attempts to modify a policy, which every Council member agreed is outmoded.
He first made a motion to repeal the existing ordinance and come up with a new one. Councilman Kirk deViere objected to repealing the measure and Arp agreed to revise the existing policy. Others objected to that, so Arp returned to his original idea of repealing the ordinance altogether and directing staff to come up with a new three-pronged policy. City Manager Doug Hewett isn't sure it would pass legal muster though. It would acknowledge that some private dams have public roads like the one at Arran Lake. Some public dams have public roads like the one in Van Story Hills. And in some other cases, there are private dams with private roads. The Arran Lakes Homeowners Association wants the city to help pay for repairing their private dam. "We'll give the road over the dam to the city in return," said HOA Treasurer Elmer Capps. "The problem I have is finding a public purpose for spending tax dollars on a private dam,"
said Hewett.
Flood Prevention of Another Sort
Twice in the last 20 years, major flooding has occurred near downtown to the extent that Cross Creek came out of its banks along Murchison Road and Bragg Boulevard. It happened most recently during Hurricane Matthew.
In mid-September of 1989, an eight-inch torrential rainfall inundated Fayetteville, taking two lives.
In both instances, water from the overflowing Cross Creek stood 5 feet deep where Bragg Boulevard intersects with Rowan Street. The State Department of Transportation is taking steps that will significantly reduce the likelihood of flooding there in the future. A bigger culvert will be constructed where the new Rowan Street Bridge and relocated city streets will pass over Cross Creek, said DOT construction engineer Randy Wise. "The new culvert is much larger than the old," he said. A temporary channel will carry the water away from the creek bed while the culvert is built. "Once the culvert is complete, the water will be diverted through it," Wise added.
Barricaded City Streets
Two years ago, the City of Fayetteville barricaded a pair of downtown city streets to help fight crime. Working with emergency services, Traffic Engineer Lee Jernigan had temporary "Street Closed" barriers erected near the Eastern Boulevard intersections of Link and School Streets. "There was a high level of crime in the area," said Police Captain James Nolette.
Those barricades have become permanent. Closing off the streets was one of the strategies designed to reduce crime as suggested by the B Street Coalition of residents. Real-time closed-circuit surveillance cameras monitored at police headquarters were another element of the effort. A Link Street neighborhood watch group has become actively involved in efforts by residents to reduce drug dealing and prostitution. "We've seen a drastic reduction in crime since the barricades were put up," said Nolette.
Small Business Workshop
The U.S. DOT Small Business Transportation Resource Center and Fayetteville Area System of Transit are hosting a small business workshop Thursday, April 20 from 3 -5 p.m. It will be held in the FAST Headquarters Conference Room located at 455 Grove Street. City spokesman Nathan Walls said the workshop will focus on accessing small business capital, maintaining adequate cash flow, acquiring capital for business expansion and finding nontraditional funding sources. Local lenders will be on hand to discuss the small business funding options. Registration can be completed at: https://fast2017-funding.eventbrite.com.
Building Business Rally
Fayetteville's Public Works Commission recently held a business workshop. City agencies have been in the forefront of reaching out to local, small businesses to attract interest. PWC has a department that is responsible for the procurement of materials, supplies, services and equipment to enable the efficient operation of the utility. The department also oversees and administers bids and contracts related to electric, water and sewer construction. PWC hosted its spring Building Business Rally last week at its operations center on Old Wilmington Road. Local vendors met with representatives of PWC's many departments to learn about their supply, equipment and service needs. PWC is also aggressively seeking contractors involved in the Small Disadvantaged Business Enterprise Program. This program works to increase the participation of disadvantaged businesses in its procurement opportunities.