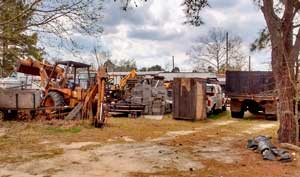 Fayetteville City Council supports a bill in the state House of Representatives that provides local legislation, which would grant the City extraterritorial jurisdiction of Shaw Heights beginning in July. Rep. Elmer Floyd (D-Cumberland), who represents the impoverished area surrounded by the City, filed the bill on his own accord. He asked Council to endorse the measure, and Monday night the body did just that.
Councilman Ted Mohn crafted the resolution of support which also advocates the eventual annexation of the doughnut hole by July 1, 2020. Mayor Pro Tem Mitch Colvin intially opposed the resolution, but reluctantly agreed to it after receiving assurances that other urban areas like Eureka Springs will be considered for annexation in the future. "I support fixing the problem," he said. "Let's do it right or let's not do it," Colvin added.
This would not be a typical annexation. In recent years, the Republican-controlled General Assembly has done away with statutes that formerly gave cities involuntary annexation authority. So, for a veteran member of the House to propose a legislative annexation is rare. Floyd has felt for years that the distressed community of rental mobile homes, massive junk yards, illegal dumps and roadside debris needed to be in the city properly so urban services could be provided.
Mayor Nat Robertson has accused Cumberland County government of ignoring the needs of Shaw Heights, and as a result forcing the city's hand. Others contend the city of Fayetteville intentionally ignored the area when it annexed everything around it over the years.
Shaw Heights, off Murchison Road near the future I-295, is the area north of Shaw Road that connects Murchison Road to the east with Bragg Boulevard to the west. A community known as Julie Heights is south of Shaw Road. It's almost as if the road itself over time became a demarcation line separating a loosely defined poverty-stricken area of rental trailers from a middle class neighborhood of modest single-family homes, many of which are owner-occupied. If granted extraterritorial jurisdiction this summer, the city would provide police protection, solid waste collection and street maintenance. The city already provides fire protection to the area under contract with County government. The only rural fire station that previously served Shaw Heights was closed many years ago. The Public Works Commission would be required to begin providing water and sewer utilities within three and a half years of the annexation.