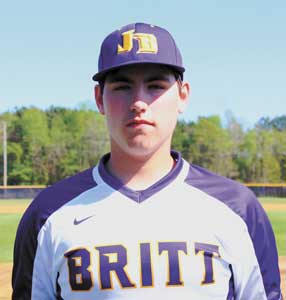 Good baseball teams have been a tradition in Terry Sanford High School's annual Easter break tournament. But this year, Bulldog coach Sam Guy may have outdone himself.
"It's a really good field,'' Guy said of the three-day event that begins this Saturday at Terry Sanford's field and continues on Monday and Tuesday.
Terry Sanford and Jack Britt, both currently leading the chase for conference honors in the Cape Fear Valley 3-A and Mid-South 4-A respectively, head the local entries. The field also includes Southeastern 4-A Conference powers Richmond Senior and Pinecrest.
Other teams in the field are South View, Midway, Union Pines and Village Christian.
Jack Britt coach Dr. Christopher Dague called the tournament one of the top tier events in the state. "There is a lot of parity,'' he said. "It will be interesting to see how we match up.''
Pitching is crucial to success in any baseball event, but with the new pitching regulations the N.C. High School Athletic Association is using this year, the coaches will have to be careful about how they use their hurlers over the three-day run of the tournament.
Terry Sanford has been led by Logan Brown and Damien Puczylowski. Through April 3, Brown is 3-1 and Puczylowski 3-0, Brown's lone loss coming to
Richmond Senior. Brown has an ERA of 1.00, Puczylowski 1.20.
"They've been the guys that have started Tuesday and Friday for us,'' Guy said. "Christian Jayne has thrown in a couple of big non-conference games. He beat Pinecrest.''
Dague's leading pitchers through April 3 are Zach Knapp and Brennen Herbert. Knapp had a brilliant 17-strikeout performance in a big win over Pine Forest. His ERA as of April 3 was zero. He had a streak of over 30 innings with no earned runs.
Herbert's ERA is only 0.38 and his record is 5-0.
Here is the tournament schedule:
Saturday
10 a.m. Union Pines vs. Midway; 1 p.m. Jack Britt vs. Pinecrest; 4 p.m. Terry Sanford vs. Village Christian; 7 p.m. Richmond Senior vs. South View.
Monday
10 a.m., 1 p.m., 4 p.m., 7 p.m.
Tuesday
10 a.m., 1 p.m., 4 p.m., 7 p.m. (championship)