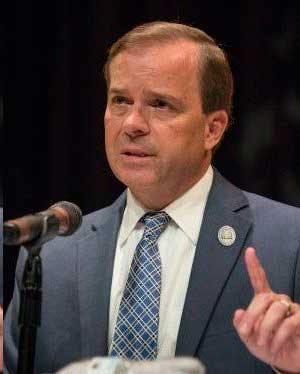 Robertson to Seek Re-election
Fayetteville Mayor Nat Robertson is seeking a third term. "Since being sworn-in as Mayor in December 2013 as Fayetteville's 35th Mayor, Fayetteville has become the envy of many Southern cities. In less than three and a half years, our city has accomplished more than any other administration in recent history," Robertson said in a lengthy news release. Robertson had not indicated prior to this week's announcement whether he would seek re-election.
He has said repeatedly he would do so if no one of a caliber he believed up to the task announced. City Councilman Kirk deViere has hinted that he might run. Robertson defeated deViere in 2013. "Your City Council has … been moving Fayetteville forward by working together as a team and setting good policy," Robertson stated. "It is with great honor and humility that I again ask for your support to continue serving as Fayetteville's Mayor. Thank you for the opportunity to serve the community Kim and I love so much," he concluded.
Cumberland County Jail Health and Medicine
The Cumberland County Board of Commissioners has apparently decided it can get the jail healthcare system reaccredited if a private company does the work. The board has issued a request for proposals for firms to submit bids to provide health care services at the Cumberland County Detention Center. The jail lost its accreditation last year when standards were changed and became more expensive to provide. Vendors interested in submitting proposals attended a conference and visited the site to view the facility and get a feel for the scope and nature of work to be performed in the detention center. Proposals must be submitted no later than May 18. Specifications are available online at: https://ccmunis.co.cumberland.nc.us/MSS/Vendors/default.aspx, or at the Finance Department, located in the Courthouse.
Cumberland County School Chief Honored
Dr. Frank Till, Jr., Superintendent of Cumberland County Schools, received the 2017 Raymond Sarbaugh Leadership Award at the North Carolina Association of School Administrators' annual conference in Greensboro. The award is given annually to a member who has shown outstanding leadership in public school service as well as commitment to enhancing and supporting the efforts of the association on behalf of his or her fellow school administrators.
Dr. Till began his career in education as a middle school math teacher in San Diego, CA. In 1999 he was selected as Superintendent for Broward County Schools in Florida, which was at that time the fifth largest system in the country. He joined Cumberland County Schools as superintendent in 2009. His commitment to public education for all North Carolina students is demonstrated through his ongoing willingness to speak out publicly on important issues and take on leadership roles to engage his peers in advocating for good laws and policies that govern public school operations.
City Management Vacancies
Fayetteville City Manager Doug Hewett has a lot of senior management positions to fill. His priority is replacing retired Police Chief Harold Medlock who left at the end of last year. He told Up & Coming Weekly applications have been closed, and he hopes to interview four to six finalists by the end of this month. Hewett's goal is to hire a new chief by the end of June. There's also a vacancy in an assistant city manager's office. Replacing Rochelle Small-Toney is not a priority because Hewett said he first wants to reorganize his office. The director of Environmental Services retired recently. Planning and Code Enforcement Director Scott Shuford is retiring soon. And there are two assistant fire chief vacancies.