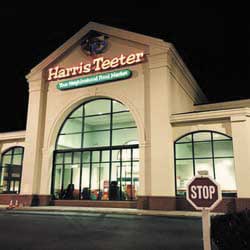 Plans for New Fayetteville Harris Teeter Store Suspended
Up & Coming Weekly has learned Harris Teeter will not be opening a third Cumberland County grocery store, at least not now. The planned 78,000-square-foot super-sized grocery was to have been built on an undeveloped tract on Ramsey Street between Shawcroft Road and Kings Creek Drive.
"Harris Teeter quarterly reports were down and they decided not to go through with the project," said City Councilwoman Kathy Jensen, who represents North Fayetteville. Just last week, the grocery chain opened a new store in suburban Baltimore, MD.
Harris Teeter of Matthews, NC, has over 230 stores in seven states and the District of Columbia. It operates a store on Raeford Road and another in Hope Mills. "I am disappointed but not surprised that between city and state building codes the Harris Teeter project wouldn't work," said Mayor Nat Robertson. Company officials did not respond to Up & Coming Weekly's inquiry.
Bridge or Culvert for Shawcroft Road?
In a week or so, the City of Fayetteville will decide whether to permanently repair Shawcroft Road in Kings Grant with a new culvert or a bridge. It will depend on the findings of a new study by the North Carolina Department of Environmental Quality. The roadway gave way during Hurricane Matthew six months ago and crushed a culvert that carried a stream beneath the roadway. A temporary fix has re-opened the road and the City hopes to make permanent repairs starting next month.
"The problem is twofold," said City Infrastructure Director Rob Stone. A dam that created the lake is considered high hazard by DEQ. And, owners of Kings Grant Golf Course claim a new culvert would create a "pinch point" in the stream that would restrict water flow to the lake, which is its source of course irrigation. Thus, they favor a bridge over the Shawcroft Road stream.
Fayetteville Ranks High for Business Startups
Fayetteville is among the top cities in North Carolina to start a business, reports WalletHub.com. Fayetteville was the only Tar Heel city to lead in a statistical category, sharing the top spot for longest average workweek. The big North Carolina winner is Charlotte, which ranks No. 3 in the nation. Durham and Raleigh were also among the best big cities for business. They ranked 14 and 16 respectively. WalletHub's report was issued this month. Winston-Salem ranked 17, Fayetteville 36 and Greensboro 56. "WalletHub's analysts compared startup opportunities that exist in the 150 most populated U.S. cities," the authors explained. Ranking highest in the country is Oklahoma City followed by Salt Lake City. Cities were evaluated on a variety of economic statistics, government data and weighting by WalletHub's own evaluation team.
Sports Emphasized in Fayetteville
The city needs at least 50 acres for its planned multipurpose athletic complex approved by voters as part of last year's successful recreation bond referendum. City Council has authorized the administration to negotiate a possible $4 million purchase price for 65 acres in the military business park off Sante Fe Drive and Bragg Boulevard.
No money for land acquisition was included in the bond issue. Fifteen sports fields are planned for the complex with construction slated to begin in 2020. The business park is the preferred choice of the Council's Parks Bond Committee. "The sports travel industry is a $9 billion business," said Councilman Jim Arp. "This site is a crown jewel," he added. City Council is not impressed with parcels off Fields Road in East Fayetteville or the Shaw Heights area near Fort Bragg.
Fort Bragg Officer Killed in Iraq
An infantry platoon leader with Fort Bragg's 82nd Airborne Division is one of the latest casualties in the global war on terrorism. First Lt. Weston Lee, 25, was killed by an improvised explosive device outside Mosul, Iraq, military officials said. Lee, of Bluffton, Georgia, was assigned to 1st Battalion, 325th Infantry Regiment, 2nd Brigade Combat Team.
He joined the Army two years ago and deployed to Iraq in December 2016, officials said. In a Facebook post, Col. Pat Work, commander of the 2nd Brigade, praised Lee as "exactly the type of leader that our paratroopers deserve." He was posthumously awarded the Bronze Star Medal, Purple Heart and Meritorious Service Medal, the Army said. Lee's death marks the sixth combat fatality in Iraq since the United States launched military operations against ISIS in August 2014. There are more U.S. forces in Iraq now than at any time since the 2011 U.S. withdrawal, as Iraqi forces and the U.S.-led coalition work to push ISIS out of Mosul.
Drunk Driving Continues to Decline Locally
Once again, a local "Driving While Impaired" checkpoint resulted in arrests of far fewer drunk drivers than might have been expected. Of 49 citations issued at the checkpoint along Hoke Loop Road in western Fayetteville, only five motorists were cited for driving while intoxicated.
The results of a DWI roadblock several months ago yielded similar results. A police news release stated that "the goal of the checkpoint is to … reduce the number of impaired drivers on the roadway."
The campaign entitled "Be Smarter Than That" promotes easy access to safe transportation options for people who plan to drink alcoholic beverages. It proposes using designated drivers, downloading ride apps like Uber and using public transportation options like taxis. A Fayetteville Police report of roadblock outcomes cited 19 drivers with revoked or no driver's licenses, nine registration violations, five DWI arrests and two each of misdemeanor drug violations, seat belt violations and inspection violations. Police said nine other varied citations were given out.