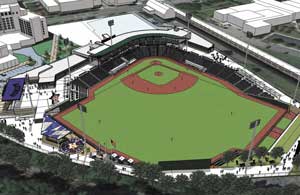 Fayetteville City Council is drawing ever closer to turning dirt on a Downtown minor league baseball stadium. "Aug. 19 is the tentative date for actual construction to begin," said Baseball Stadium Committee Chairman Mitch Colvin. The committee gets another update on exhaustive design and budget work in June. Last week, the committee heard from architect Mike Sabatini of Populous, a global architecture firm hired by the city to design the $33 million stadium, which at this point is way over budget.
Sabatini told the committee the ballpark will be a downsized version of Spirit Communications Park in Columbia, South Carolina, which opened in 2016. Like the Columbia park, the Fayetteville stadium will serve as a 365-day-per-year multi-use sports and entertainment venue. It will be the home of Fayetteville's Advanced Single-A minor league affiliate of the Houston Astros. But it's being designed also for concerts, soccer, football and a host of other activities. It will seat up to 5,000 spectators for sporting events and thousands more for open-air concerts. The stadium itself will feature a 360-degree concourse, an exclusive 100-seat elevated grand stand, club seating in right field, unique left-center field rocking chair seating and an open-air party deck. It will also feature a grassy berm for blanket viewing in center field.
"We're a bit behind and need to get back on schedule," Deputy City Manager Kristoff Bauer told the committee. Barton Malow Company of Southfield, Michigan, is the general contractor. It's a respected firm that provides construction services throughout North America. "We need to move to the next level of design," said Barton Malow's Roslyn Henderson.
She said that will include reducing an early construction estimate of $39 million. "A close scrutiny of options pulled $5 million out, leaving $34.7 million," she told the committee.
"We feel confident as a team that we'll get to the $33 million budget."
When asked by Mayor Nat Robertson why the local stadium will cost more than the larger Columbia ballpark, Henderson said, "It's only 20 percent smaller and we're at the tail end of a down economy heading into a booming economy."
It's been a year now since the city began what then had been a three-year research project headed initially by former Deputy City Manager Rochelle Small-Toney. With Small-Toney's departure last fall, Bauer has taken the reins. He called last week's update a "feedback stage in the process."
Council learned the final design and budget data should take eight to 10 weeks. Because members of Council and city administrators will be on vacation in July, the stadium committee agreed to meet again on June 19 for another update.
Committee member Kirk deViere suggested the group had gotten to the point that the full Council should be engaged from now on. Colvin and Robertson said the smaller working group has made rapid progress possible, and that other Council members are welcome to attend the meetings.