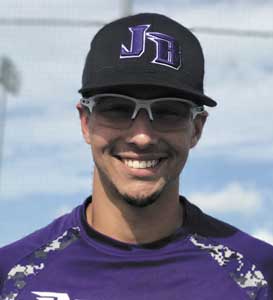 Jack Britt baseball coach Dr. Christopher Dague teaches history at the school, so it was only appropriate that his Buccaneer team make a little of it this season.
For the first time since Britt opened its doors in 2000, Jack Britt owns a piece of a conference baseball title. The Bucs split regular-season honors with perennial Mid-South 4-A Conference power Cape Fear and are ready to begin competition in this week's state 4-A baseball playoffs.
Dague said he began talking with his players before the season started about the need to exceed expectations this season. "This is the hardest-working team I've had,'' he said. "It's been incredible to watch them work.''
He said the squad was so committed they were unhappy when he gave them time off, like the Saturday after their big conference win over Cape Fear.
"They get along well with each other,'' Dague said, "but winning cures a lot of that too.''
So does senior leadership, and Dague said he was blessed with that this season.
Two of those seniors are Zachary Knapp and Gavin Wheeler. Knapp has 67 strikeouts in 37.1 innings through April 29 and a .350 batting average with 20 RBIs.
Wheeler is hitting .375 with eight RBIs.
Knapp said making history means a lot to this year's Britt team. "You've earned something special,'' he said. "I feel we have no egos on the team. Everyone gets along pretty well. The main goal of all the players is to win.''
Knapp has successfully battled back from knee surgery twice but is still waiting for colleges to show interest in him. "If I go out and give my all, the scouts will come,'' he said.
Wheeler agreed with Knapp that egos are not a problem on this Britt team and that the focus hasn't been on personal glory. "You hear some guys on other teams worried about numbers and how they are doing,'' Wheeler said. "To win the conference championship is more important.
"That's what we've been after, W's, not our numbers.''
Britt hit a bump in the road at the end of the regular season, losing a pitching duel against Cape Fear star Gavin Williams, then getting battered by Cape Fear Valley 3-A Conference regular-season champion Terry Sanford.
Dague said the team's mantra all season is that at 3:45 p.m., the start of practice, whatever happened the previous day is history.
He's optimistic about this year's playoff chances. "Last year we beat Southern Alamance, who was a No. 8 seed,'' he said. "We had a 14-12 record. We're 15-7 now (before the Mid-South tournament).
"If we execute what we know how to do, we'll be fine," Dague added.