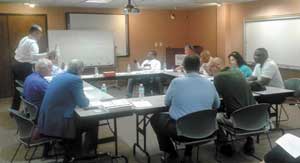 With less than two weeks remaining in the fiscal year, Fayetteville City Council has yet to adopt an operating budget for the new fiscal year, which begins July 1. Members continue to work on several options this week. As of this writing, a hung council is divided 5-5 on City Manager Doug Hewett's proposal to raise taxes to achieve revenue neutrality in the wake of a $5.5 million decrease in property values.
The most recent budget work sessions have been acrimonious, prompting Mayor Nat Robertson to ask members to be agreeable and behave with civility and respect towards each other.
At issue is whether to raise the tax rate or the City's household solid waste fee, or both. One proposal is to raise the fee from $44 per year to $108. That would allow budget writers to eliminate an $8 million supplemental sanitation allocation from the general fund.
DeViere and McDougald argued that fees are regressive and hurt low-income households while favoring the wealthy. Jensen noted that commercial businesses don't pay the annual solid waste fee because they depend on private trash companies. She said they would be hurt if the property tax is raised. Jensen is a small-business owner. Council member Jim Arp agreed. "We need more businesses paying lower taxes, not fewer businesses paying larger taxes," he said.
Councilman Ted Mohn used a white board to record the ideas his colleagues offered on whether to raise the property tax or increase the solid waste fee. He favors a combination of both as proposed by the city manager. The others who favor an increase are deViere, McDougald, Mohn, Bobby Hurst and Larry Wright.
Mayor Robertson, Jensen and Arp say they are unequivocally opposed to any increase. Bill Crisp and Mitch Colvin are also opposed. Colvin said any increase in the tax rate would be seen as taxing residents to pay for the $33-million baseball stadium planned for downtown. "We owe it to those folks to keep our word" and not raise taxes, he said.
County Budget Adopted with Tax Increase
Cumberland County Commissioners found themselves in a more difficult budget-balancing situation. They approved raising the property tax rate from 74 cents to 79.9 cents per hundred dollars of valuation.
That barely brings FY18 spending to a countywide revenue neutral position and will require cuts in government services. Cumberland County residential property values declined this year.
Commercial values went up, so the tax increase will negatively affect businesses. When coupled with the county's fire district and recreation taxes, the total ad valorem tax rate in unincorporated areas of the county will be 96.15 cents. That doesn't include storm water, solid waste, refuse and recycling fees or auto privilege taxes.
Chairman Glenn Adams, Vice Chairman Charles Evans, and commissioners Jeannette Council, Marshall Faircloth and Larry Lancaster voted in favor of the budget. Commissioners Michael Boose and Jimmy Keefe were opposed.
Photo: As of this writing, a hung council is divided 5-5 on City Manager Doug Hewett's proposal to raise taxes.