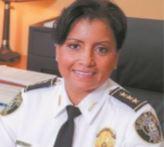 Fayetteville's new chief of police will hit the ground running when she starts her new job next month. Gina Hawkins, 49, the deputy chief of the Clayton County, Georgia, Police Department, was selected by City Manager Doug Hewett.
He acknowledged during a news conference that his choice might initially appear unpopular since many ranking members of the Police Department's command staff supported Interim Chief Anthony Kelly. "Selecting the new chief is one of the most difficult decisions I have been faced with since becoming the City Manager and one that I don't take lightly," Hewett said. "I am exceedingly grateful for Kelly's service as interim chief," he added. Kelly meanwhile pledged his continued best efforts and support to the new chief as her senior assistant chief.
Hewett described Hawkins as a multifaceted criminal justice professional with 28 years of comprehensive experience. She holds a bachelor of science in criminal justice from Georgia State University and a master of science in management from Johns Hopkins University. She is a graduate of the Senior Management Institute for Police at Boston University and is also a graduate of the FBI National Academy.
Hewett outlined distinctions he said set Hawkins apart from the other finalists: a diverse skillset which includes the ability to listen to others, attention to detail, the ability to adapt and evolve, ease of connecting with people, a sense of humor and an education, which includes advanced degrees. Her starting pay will be $140,000.
PHOTO: Gina Hawkins, Fayetteville's new chief of police