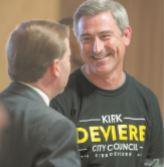 If Fayetteville Mayor Nat Robertson hoped that by announcing early he was seeking re-election would discourage others from entering the Mayor's race, he miscalculated.
District 2 City Councilman Kirk deViere has decided to seek the position. Robertson defeated deViere in the 2013 municipal primary election. Many political pundits thought he would do one more term serving District 2 before seeking the mayor's seat. The twoweek City Council filing period for the fall elections is underway, and it's doubtful the mayor's race will be the only contested seat. At this writing, at least two incumbent members of Council, Bobby Hurst and Ted Mohn, have said they would not seek re-election.
DeViere came to Fayetteville with the Army about 20 years ago. He currently owns and operates 219 Group, an advertising and marketing firm headquartered in downtown Fayetteville. His announcement came in the form of a three-minute YouTube video posted on Facebook.
In his public address, he said all residents must work together to make Fayetteville a better place to live. He referred to "inequalities across the city" and suggested that more community amenities must be developed that will bring back people who've been fleeing the community, claiming that Cumberland County is losing population, unlike virtually all other metropolitan areas of North Carolina.
He also spoke of what he called "decaying neighborhoods" and streets in need of desperate repair. He was supported by his wife Jenny who affirmed that they are committed to the race and the community.
PHOTO: Mayor Nat Robertson and Councilman Kirk DeViere