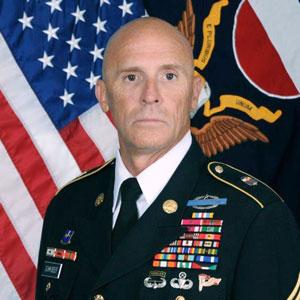 Command Sgt. Maj. Scott Schroeder couldn't make it when U.S. Army senior leaders gathered at Army Forces Command Headquarters at Fort Bragg last week. The meeting was held to enhance a shared understanding of FORSCOM's roles, priorities and key initiatives.
The FORSCOM Senior Leader Orientation focused on being "Ready Now" and included leaders and representatives of FORSCOM's subordinate units as well as FORSCOM Headquarters staff. Schroeder had turned in his rucksack in preparation for his retirement. He retired at Fort Bragg Aug. 1, after 34 years of service.
"The Army owes me nothing," he said. "I owe the Army a debt that will never be paid back in full." Gen. Robert B. "Abe" Abrams, commanding general of FORSCOM, said Schroeder leaves behind a lasting legacy marked by commitment, dedication and service to the Army. Schroeder relinquished responsibility as FORSCOM'S senior enlisted leader to Command Sgt. Maj. Michael A. Grinston.
Beloved Fayetteville Retired Officer Dies
Retired Lt. Col. Alfred A. "Smilin' Al" Alvarez passed away at home on Monday, July 31, at the age of 93.
He joined the Army in 1941. On D-Day, he went ashore on Omaha Beach, Normandy, and fought his way inshore. Following the Normandy landing, he participated in numerous battles, including the Battle of the Bulge. Following his commission from OCS in 1949, he served two combat tours in the Korean War. In 1965, he served 18 months in the Dominican Republic conflict. From 1968-69 as a Lt. Col. in the 7th Special Forces, Alvarez served a combat tour in Vietnam where, shortly after arriving in-country, the helicopter he was riding in was hit by enemy fire and forced to make an emergency landing. He returned stateside and served in the 18th Airborne Corps until retiring in 1974 after 32 years in the Army.
Alvarez became widely known locally as a charter member of the Airborne & Special Operations Museum, where he served as a docent. He is survived by his sister Mary (97), his wife Florence (married 68 years), a son and daughter-in-law, a daughter and her husband, 10 grandchildren and two great-grandchildren.
A memorial service was held Aug. 5 at JerniganWarren Funeral Home. Burial with full military honors will be held at Arlington National Cemetery at a later date. In lieu of flowers, the family requests that donations be made to the Airborne & Special Operations Museum Foundation or to the Veterans of Foreign Wars.
State Grants Still Available to Hurricane Matthew Victims
The North Carolina Housing Finance Agency provides funding to participating local organizations for the rehabilitation of owner-occupied homes damaged during Hurricane Matthew. Homeowners can apply directly to their local partner organizations designated by the Housing Finance Agency.
Help from HFA comes in the form of an unsecured, 0 percent interest, forgivable loan covering the hard and soft costs of home rehabilitation to be forgiven at the rate of $5,000 per year. The program can cover damages up to $40,000. So long as the survivor lives in the home, the borrower will not need to make any payments on the loan.
The Housing Finance Agency was awarded $20 million. The balance in the fund is $14 million. Consideration will be given on a first come, first served basis. Contact Kingdom Community Development Corporation, 129 N. Main St., Spring Lake, NC, at (910) 484-2722 or North Carolina Indian Housing Authority, P.O. Box 2343, Fayetteville, NC at (910) 483-5073 for more information.
PHOTO: Command Sgt. Maj. Scott Schroeder