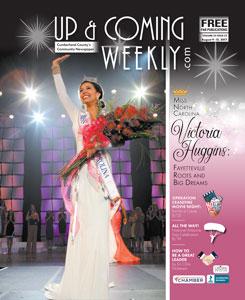 Fayetteville Roots
On July 24, 23-year-old Victoria Huggins won the 80th annual Miss North Carolina pageant. It was her fifth time competing for the crown and her last year of eligibility. She had come close before; in 2015 she was second runner-up, and in 2016 she was third runner-up.
Huggins grew up in St. Pauls, North Carolina, a small town about 30 minutes from Fayetteville. Her dad, who plans to retire this December after 41 years of service, worked as a full-time National Guard service member on Fort Bragg. "Fayetteville was always the place we gathered," Huggins said. "Whether it was to meet Dad when he got off of work to grab a bite to eat or whether we were doing things at the Airborne and Special Operations Museum, it was always kind of our center."
Huggins won Miss Fayetteville in 2013. "I took a lot of pride in that because that was the only preliminary in our Miss North Carolina organization that included my hometown," she said. Huggins said representing Fayetteville was a "dream come true" and the "perfect boot camp" in preparing her for Miss North Carolina and — now — the Miss America competition in September.
One of the first competitions Huggins remembers entering was the Fayetteville Kiwanis Club Talent Night as a 5 or 6-year-old girl. She wore a blue pantsuit and sang "I Got Saved in the Old Time Way." She won. Around that same time, she sang on the Crown Coliseum stage. Family friend Pastor Wesley Pritchard of Fayetteville Community Church knew it was her dream to perform with gospel singer Bill Gaither. Pritchard introduced young Huggins to Gaither before a show at the Crown. During the show, Gaither called her up onstage to sing. "He said, 'Where is Victoria Huggins?' I went running up the aisle," Huggins said.
Huggins's transition to a serious focus on pageants, she said, happened when she was ready to start college at the University of North Carolina at Pembroke. "I wanted to graduate college debt-free, so that was going to be through scholarships," she said. "And the Miss America organization is actually the number one provider of scholarships for young women in the world."
Huggins gave a few examples: For winning Miss Fayetteville in 2013, she received a $1,000 college scholarship. She was guaranteed an additional scholarship for competing in Miss North Carolina, and since she won this year, she earned a $25,000 scholarship. She also earned an extra $2,500 in scholarships for smaller awards, such as the Quality of Life and preliminary talent awards within that competition.
Though college funding was her initial motivation, Huggins said that once she got started in pageants, she realized they were complementary to everything she already enjoyed. "I thought to myself, I already love to speak to people, I love community service — I was already active in that before I started pageants — and I love singing,'" Huggins said. "Now the only part I needed to work on was how to walk in an evening gown and a swimsuit without falling flat on my face."
She did learn, even while working and going through school — she graduated from UNC-Pembroke in 2015 — and it earned her the crown. She said she felt the major factor in her win this year was a shift in her mentality. "I didn't focus so much on this being my last year for eligibility," she said. "I just kind of let it go. … Before, I was so focused on strategy … and this year, I didn't worry about that. I think that helped me to have more fun and be so relaxed, … and I think that's what made the difference for me."
Big Dreams
Though winning Miss North Carolina was the fulfillment of one of her biggest dreams, it wasn't just the crown that Huggins desired. She wanted the platform to do work in the areas she's passionate about. As Miss North Carolina, Huggins will take the year off from her job as a producer and morning reporter for television station WECT and from her graduate coursework at John Hopkins University.
One of her primary advocacy projects this year will be The ALZ Project. This is a project she's been building, and she won the Quality of Life Award for her Alzheimer's-focused community service platform in this year's preliminaries. She said she's been invested in Alzheimer's awareness and research since 2008, when she first volunteered for the Fayetteville Walk to End Alzheimer's.
Through The ALZ Project, Huggins advocates for music therapy for Alzheimer's patients. She'd like to see every care facility in North Carolina incorporate music therapy. Huggins said this could include amenities like a music library with iPods for nurses to program for patients or a pianist who would play at a care facility for an hour every day.
Huggins won the talent award for her performance of "Unchained Melody" in the pageant. Her song choice was influenced by her experience in care facilities. "One thing I've found ... is if you sing a familiar song like 'Unchained Melody,' … Alzheimer's patients more than likely will sing along with you," she said. "That can bridge the gap between the disease and the memories. ... They're able to remember."
She's making plans to meet with Governor Cooper in the next few weeks and has already spoken with several local dignitaries about her ideas. She said being Miss North Carolina will open many more doors for her in this area, "and that's what I've always wanted, is to have that platform.
"Nothing would thrill me more than to win Miss America, because I would be the first Miss America to advocate for Alzheimer's in the 93-year history of the organization," Huggins said. "And, ... we have four scientists in North Carolina who have (treatment research) proposals on the table ready to go, they just need the funding and the approval." She'll visit the Alzheimer's Center at Duke University next week to speak with one of those four scientisits, Dr. Kathleen Anne Welsh-Bohmer. She'll see a presentation of the clinical trial that researchers there are hoping will be approved by the FDA. "It would be amazing if we could collaborate and together find a cure or treatment for Alzheimer's," Huggins said.
Huggins will also work with North Carolina's three Children's Miracle Network hospitals this year. In two weeks, Huggins will meet the current Miss America, Savvy Shields, and bring her to Duke Children's Hospital as well as Fort Bragg. "I'm so excited to show her a little piece of me but also the best in the nation," Huggins said.
As she prepares for the Miss America competition that's only a month away, Huggins said anyone would be crazy to not feel at least a little nervous.
"But the way I see it, I'm at home when I'm on a stage," she said. "I hope I can show the judges in September that I am the best woman for the job. … I see it as my greatest performance; my greatest opportunity." She added that she believes North Carolina is "ready to have a positive national spotlight shone on it. We haven't had a Miss America since 1962, and it's time."