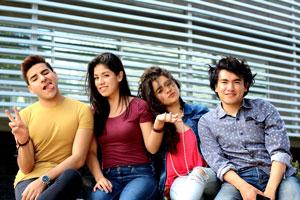 It's the time of year when we all want to go to the beach and just take it easy. It's also the time of year for many to prepare to start college.
Fayetteville Technical Community College is open for Fall 2017 registration right now, and the sooner you get started, the sooner you can get to the beach. Do the free FTCC application and the free financial aid application now, and when fall classes begin on Aug. 21, everything will be ready. It is smart to do everything as early as possible to get the best choices for classes. Earlier is better for financial aid, too. Sometimes it takes a while to process financial aid, so getting started now ensures that aid will be in place.
Go to www.faytechcc.edu and click on the "Get Started" link on the front page. The link goes directly to the free College Foundation of North Carolina application used by FTCC. Once the application is complete, an email is immediately sent to the email address used in the application. We also send a hard-copy letter to the physical address the student records on the CFNC application.
The email outlines the steps for admissions and provides links to forms to request a transcript from high school or other colleges, links to financial aid and the assessment and placement office. There is also a link to connect with an admissions counselor. The email also contains links to Veteran's Services and military websites, a health programs admissions counselor and counselors at the Spring Lake Campus and Fort Bragg Training and Education Center.
The letter we mail provides logon and password setup information for student email and WebAdvisor accounts. All applicants receive a student email account and a WebAdvisor account even before they are registered for classes. This is important because FTCC is going green, and after sending the first letter through the postal system to a home address, we primarily communicate with students via student email.
Additionally, WebAdvisor is an excellent tool for applicants and students. With WebAdvisor, applicants and students can manage financial aid, register for classes, contact an advisor, view their grades, request transcripts and set up an interest-free payment plan (for students who are paying out of pocket).
Once the FTCC application is complete, students should visit www.FAFSA.gov. Please note that services provided through FAFSA.gov are provided free of charge. Any website that charges fees for services related to financial aid assistance for education is not the right website. Apply for the academic year 2017/2018. Be prepared with tax documents. Most students who live at home will use their parents' income information, but extenuating circumstances may change that. Please visit the Tony Rand Student Center Room 2 at the Fayetteville campus for help.
Even in this high-tech world, it is still important to receive face-to-face assistance, and FTCC is proud to offer the personal touch. FTCC provides assistance with everything, including the application, financial aid, assessment preparation, transcript evaluation and registration.
Visit the Tony Rand Student Center information desk to begin the admissions and financial aid process today.