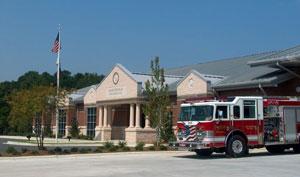 Fayetteville's city administration has tried and failed to improve employee diversity in the Police and Fire Departments for the last 20 years.
Councilman Chalmers McDougald took Fire Chief Ben Major to task for lack of progress at a City Council meeting last week. McDougald's demeanor was in contrast to a meeting a month ago when he said he deliberately bit his tongue after learning that City Manager Doug Hewett pledged to make some changes.
McDougald publicly scolded the fire chief while, for the most part, Hewett stayed silent. At one point, Major glared at McDougald with both hands on his hips. "No one is more committed to hiring minorities than I am," Major said. "Words are cheap," McDougald replied. Both men are black. Fewer than a dozen of Fayetteville's 300 firefighters are black. Of the City's 433 police officers, only 80 of them, or 19 percent, are black, according to Assistant Police Chief Anthony Kelly.
The U.S. Equal Employment Opportunity Commission turned down the City in its request for assistance. EEOC officials pointed out that the agency responds to bias complaints, but does not offer advice to avoid complaints. Consequently, Hewett sent out a formal request for qualifications to firms interested in consulting with the City on its efforts to improve police and fire employ- ee diversity.
The most recent fire department hiring process received 693 applications. Four hundred and sixteen were from white males; 130 from black men. Only 70 of the blacks made appointments for testing, according to information provided by Chief Major. Of that number, 53 showed up to take the test. Twenty-seven of them passed and qualified for the physical exam. McDougald has been consistently critical of the hiring process and says more enlightened methods should be used to find and recruit minorities.
Major told Council that he has been talking to fire departments across North Carolina and the nation only to find that minority recruiting is a universal problem among fire departments. Councilman Bill Crisp suggested that the City expand its fire academy at E.E. Smith High School. The fire service intern program was founded 12 years ago by retired Fire Chief Benny Nichols. But his dream of a fullfledged academy in conjunction with Fayetteville State University fizzled.
Nichols's dreams were big: Fire Station 14 was built on Langdon Street property owned by FSU. It was designed as a teaching facility and community center with classrooms and dormitories for a "real life" curriculum developed though a partnership between the City of Fayetteville and the schools. It houses two fire engines and personnel.
A 2010 FSU student recruiting paper said that its award-winning online bachelor's degree completion program in Fire Science would provide students an opportunity to build on their fire science training and earn associate degrees from FTCC and advance to a B.S. Degree in Fire Science at FSU. The statement concluded, "Both of these components of the Fire Science Degree program came from the imagination and persistence of Chief Nichols of the Fayetteville Fire Department." Ultimately, though, there just wasn't enough student interest.
Currently, the curriculum is only available online, and the facilities at Fire Station 14 never were fully utilized. The space has since been converted into fire department headquarters.