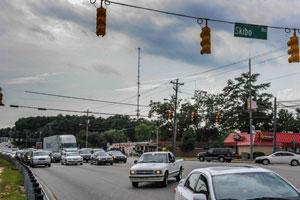 It won't be long before the new Freedom Town Center opens at Skibo and Cliffdale Roads. With it comes an expected increase in traffic congestion.
"We expect up to 50,000 cars per day on Skibo Road and 35,000 vehicles on Cliffdale," said city traffic engineer Lee Jernigan. "We'll be keeping a close eye on traffic in case signal lights need adjusting." Traffic signal changes have to be done manually because flooding destroyed the city's traffic signal system located on Alexander Street near downtown during Hurricane Matthew. The state is paying for a $6 million replacement of the system and the control boxes at the city's 229 signalized intersections, Jernigan said. City government is chipping in $190,000. It will take several months to complete the project.
A new road through the Freedom Town Center, which is being paid for by the developer, is expected to relieve some of the congestion at the Skibo/ Cliffdale intersection.
New Hockey Team Mascot
The Fayetteville Marksmen hockey team and Cross Creek Mall will unveil the new team mascot Aug. 26. "The mascot is our way to engage with the community," Marksmen CEO and owner Chuck Norris said. "He is going to be actively involved with the community, in the schools and all around Fayetteville," he added. "The red fox was an easy choice for us," said team President and owner Jeff Longo. "It's native to North Carolina ... the fox is fierce, but also soft and cuddly." Fans wishing to attend the event can arrive at Cross Creek Mall beginning at 2 p.m., with the unveiling taking place in the center area next to the food court. After the unveiling and name announcement, fans will have the opportunity to purchase Marksmen merchandise, take photos with the mascot and talk with Marksmen staff until 6 p.m.

Sunday Brunch Bill Passes
Fayetteville City Council voted 8-2 last week to adopt a local ordinance authorizing the sale of alcoholic beverages at 10 a.m. on Sundays. The general assembly gave cities and counties local authorization to change on-premises and carry-out sale of alcoholic beverages on Sundays. Not all members of Council were aware of the extent of the law only minutes before they voted on it. Mayor Pro Tem Mitch Colvin, who voted against the measure, asked the city attorney if the ordinance would also allow stores to sell beer and wine early. Karen McDonald said, "Yes." Councilman Larry Wright also voted against passage. Two members of Council who said publically they were ethically opposed to the change, Bill Crisp and Bobby Hurst, voted in favor anyway.
It's Tax Time Again
The Cumberland County Tax Administration office mailed tax bills to property owners two weeks ago. Taxes are due Sept. 1, but a grace period gives taxpayers until Jan. 5 to pay with no penalties or interest. After that, unpaid tax bills will begin incurring interest. There are several ways property owners can pay their tax bills. Go to www.co.cumberland.nc.us/tax/payments and pay with an electronic check, major credit card or debit card. Convenience fees apply. Taxpayers can also set up online bill pay options with their banks. It is important that taxpayers using this method verify and update their tax bill number on file with their banks. Credit and debit card payments can be made by phone at 1-866-441-6614, but it includes a convenience fee.