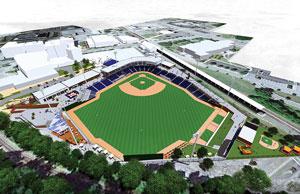 HIT: The Baseball Stadium is officially under construction in an area of downtown Fayetteville that has gone undeveloped for 45 years.
The city of Fayetteville and Houston Astros broke ground Aug. 21 on the $33 million ballpark, which is expected to take 18 months to complete. It will open for the 2019 baseball season.
MISS: The FAST Transit Center will finally open in the month ahead, 16 months behind schedule.
The impressive terminal in the block bounded by Robeson, Russell, Winslow and Franklin Streets will serve the Fayetteville Area System of Transit, Greyhound and Mega Bus.
HIT: Chief of Police Gina Hawkins has been sworn in. She's Fayetteville's eighth police chief since 1949 when the city adopted its council/manager form of government. Hawkins is Fayetteville's first female chief. She's also our first biracial minority. Her father was black. Her mother is Panamanian.
MISS: The Ray Avenue Fountain's water has been turned off by PWC. The water feature was built and paid for by businessman Paul Lawing. City officials said there are no plans to eliminate the fountain to make way for the stadium, and they have no idea why the water was turned off.
HIT: A Splash Pad has been formally opened at the Kiwanis Recreation Center. A similar splash pad at Massey Hill Recreation Center will open any day now. They're the first projects authorized by voters in last spring's parks bond referendum to be built. A third splash pad is under construction at Myers Park Recreation Center in Savoy Heights.
MISS: Traffic Cops are in short supply. Chief Hawkins needs to figure out how to redeploy more officers from their current assignments to the traffic enforcement division. They could help reduce red light running, which the video cameras have done little to accomplish.
HIT: The Rowan Street Bridge progress is apparently ahead of schedule. General contractor S.T. Wooten Corporation of Wilson, North Carolina, is reputed to finish major jobs well ahead of schedule.
The new $23 million bridge and realignment of Bragg Boulevard, Murchison Road and Rowan Street was initially projected by DOT to take three years.