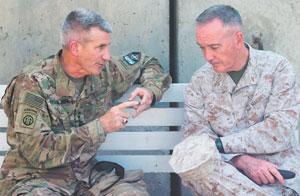 For months, Gen. John W. Nicholson Jr. made the case for an expanded U.S. military commitment to Afghanistan. And for a brief time, it appeared President Donald Trump might relieve Nicholson because Trump didn't want to hear that.
Nicholson believes the faltering Afghan war is an urgent matter of American security and that Afghan defense forces need more time and U.S. support to become self-sufficient.
Last month, the top U.S. military commander in Afghanistan got his wish; Trump publicly committed himself to a strategy closely identified as the plan Nicholson and Afghan President Ashraf Ghani hammered out in dozens of meetings this spring and summer.
Nicholson, 61, has spent more time in Afghanistan than any other senior commander, and he now must deliver on what many observers say may be an impossible mission. The aim is to help Afghan forces turn around a stalemated conflict with the aid of a few thousand extra advisory troops. Fort Bragg's 82nd Airborne Division will reportedly contribute to the 4,000 additional troops for what some are calling the second Afghan war.
Nicholson is intimately familiar with America's Guard of Honor. His first five years of service were in the 82nd Airborne. From October 201214, Maj. Gen. Nicholson served as commanding general of the 82nd. He still wears the AA combat patch on his right shoulder.
Before his 82nd command, the four-star general spent more than three years in Afghanistan in multiple command positions. He has also served on the immediate staffs of the Secretary of the Army and the Chief of Staff of the Army. Nicholson took command in Afghanistan in March 2016 for a tour of duty that typically does not last longer than two years. But several recent commanders have served shorter tours for a variety of reasons. It's widely believed Defense Secretary James Mattis and Gen. Joseph Dunford, Chairman of the Joint Chiefs of Staff, support Nicholson staying in his role.
Trump and Nicholson do not know each other, and the general said last week that he communicates with administration officials through the military chain of command. He reports directly to the U.S. Central Command in Tampa, Florida.
At one White House meeting to discuss Afghan policy, Trump reportedly threatened to fire Nicholson out of frustration at the stumbling war effort, stunning his aides. In a recent Stars & Stripes interview at his headquarters, Nicholson declined to discuss that episode. Asked if he now believes the president supports him, Nicholson paused, smiled and answered, "Yes." Asked to elaborate, he smiled again and shook his head.
Nicholson made a very public pledge to defeat and eliminate the local Afghan branch of ISIS known as ISIS-K, promising to do so by the end of 2017. To that end, he authorized use of the MOAB bomb, the most powerful non-nuclear weapon in the U.S. arsenal. It was a decision that made headlines while inviting some to wonder whether Nicholson considered the political impact such a decision might have. He heaps praise on the Afghan special operations forces, which will be doubled in size and trained by U.S. and NATO advisers under the new military plan.
PHOTO: Gen. John W. Nicholson Jr. and Gen. Joseph Dunford, Chairman of the Joint Chiefs of Staff.