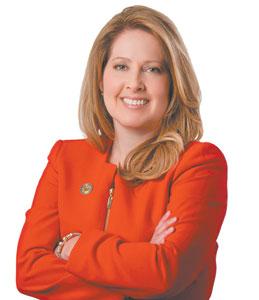 Cindy Blackwell announced this week that she changed her party affiliation to Republican. She plans to actively seek the GOP nomination for Cumberland County Clerk of Court in 2018.
"When I first registered to vote in Cumberland County, I was a young adult working for an elected official," she said. Her family was Republican, Blackwell noted, but an acquaintance persuaded her not to register with the GOP — the friend was concerned that Blackwell's party registration might affect her job.
Blackwell said she has always voted for the candidate she considered most qualified, regardless of party, and that she believes voters will look at her qualifications and experience and choose her for Clerk of Court.
"In light of recent events in our courthouse, I just couldn't go along with the 'status quo' politics. So, I made my choice and switched party affiliations. I feel good about my decision to join the Republican delegation. It feels right," Blackwell said.
"The race for Cumberland County Clerk of Court should be about who is the most qualified candidate and who has the knowledge, experience and knowhow to serve the people. I intend to run a fair, hon
est, respectable, but, aggressive campaign to personally meet and introduce myself to both Democratic and Republican voters across the county," Blackwell said. "I believe the Courthouse belongs to the people. No single political party owns it, and it's no place for partisan politics that places personal political favor over competency, qualifications and an honorable and documented track record."
She went on to say that the average person dreads going to the courthouse in Fayetteville, because the place is slow and frustrating to deal with and that the current system just promotes the status quo.
"They're not trying to make the courthouse work better for average folks," she said. "I want people to know that things can get better — that voters will actually have a choice this time around. I want them to decide who is the most qualified to be the next Clerk of Court."