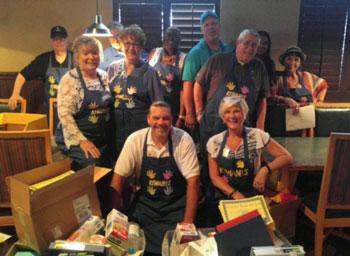 The Hope Mills Kiwanis Club is full of members who volunteer their time to help with local schools and nonprofits in order to benefit children and families who are in need. I had the pleasure of being Kiwanis Club Treasurer Jan Spell's guest to the club's monthly meeting at Sammio's. Each member who attended welcomed me with a warm embrace — not the side hug from strangers. No. These generous people each greeted me with a loving hug that let me know they care about this community and giving back. They are passionate about their commitment to this community.
The Hope Mills Kiwanis help with ensuring children have school supplies. They help the ALMS HOUSE of Hope Mills feed over 400 children each week. The list of generous and compassionate deeds is continuous.
With 31 members thus far (and counting), the Hope Mills Kiwanis Club has grown three-fold, and it's looking for more members. Each member I met comes from a different career background. Teacher. Commissioner. Military. Retiree. And now myself — a marketing consultant/writer.
The Hope Mills Kiwanis Club has a full agenda that keeps its members busy and also entertains, feeds and — most importantly — gives back to the community. The Kiwanis will be in full support of the "Peace, Love and Walk" presented by Members Credit Union, which benefits the ALMS HOUSE in Hope Mills. Donations made to the walk-a-thon will go towards helping those in Hope Mills who have incomes below the poverty level. For more information, visit www.memcu.com/ peace-love-walk or call Delores or John at (910) 425-0902. The walk will be on Oct 7.
Also, everyone knows that North Carolina loves its barbeque. On Oct. 13, the Kiwanis Club will host a BBQ fundraising event. Proceeds from this event will go towards providing for the Kiwanis-connected school clubs, those less fortunate and other service projects.
The schools have different clubs depending on the ages of the child. For elementary students, the K-Kids Club participates in service projects around the community that benefit not only those in need, but the children themselves. Children in middle school and junior high will have a chance to engage in service projects and will also learn about and improve self-esteem and grow in leadership. The Key Club is for high school students who desire to give back and want to learn more about being a leader. Circle K is the university-level club and also claims to be the largest leadership organization in the world.
One of the best things about Kiwanis is that it does not leave anyone out. Adults with disabilities also have an opportunity to give back through service projects in the Aktion Club. The Aktion Club is the only service club where these individuals can learn more about leadership skills.
Contact the Kiwanis of Hope Mills at (910) 426-7256 for more information about becoming a member.