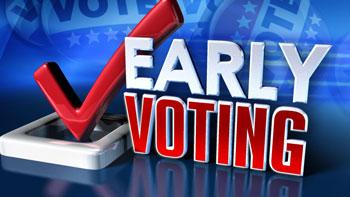 Early voting for Fayetteville's 2017 municipal election is underway. Early primary voting ends Saturday, Oct. 7. There's one ballot for the citywide primary race for Fayetteville mayor. There are also primary races in six of the city's nine city council districts.
Primaries are necessary for those races where there are more than twice the number of candidates for a given office. They include council districts 1, 2, 3, 5, 6 and 7. In districts 2, 3 and 5, incumbents are not seeking re-election. District 5 Councilman Bobby Hurst is retiring. Districts 2 and 3 incumbents, Kirk deViere and Mitch Colvin, are running for mayor. So, there will be at least three new members of the council come December.
Citizens who are not registered to vote may register during the early voting period if they show documents that list their current names and addresses in Cumberland County. A list of acceptable documentation is available online at co.cumberland. nc.us/elections.aspx. Early voting is held at only one location, the Cumberland County Board of Elections Office at 227 Fountainhead Ln., Fayetteville.
Teacher of the Year
The announcement of the 2018 Cumberland County Schools' Teacher of the Year was made during an annual dinner where 86 candidates for the honor had gathered. Rockfish Elementary School fourth-grade teacher Leslie Seals was the winner. During her eight years in the classroom, she has also taught students in Richmond and Beaufort counties.
"When we create a real difference in a student academically, emotionally or behaviorally, I feel we have accomplished what is sometimes not recognized by others but is more valuable to the future of our communities and world than a test score," Seals said.
She was influenced to become a teacher by her mother and stepfather, who were both former administrators in Harnett County Schools. Seals likes to use small-group instruction to help "create a real difference" and meet the needs of each student.
"My students know I care when I meet with them ... I am also able to see the needs of my students more clearly when working with them in small groups," she said. Seals earned a Bachelor of Science degree in Elementary Education from East Carolina University. As the 2018 Teacher of the Year, she received: $300 and flowers from Cumberland County Schools; $300 from the Communities in Schools of Cumberland County; a one-year car lease from Powers-Swain Chevrolet; a commemorative customdesigned Teacher of the Year ring from Jostens; an engraved clock from Herff Jones; and an award from the Cumberland County Board of Education.
Beaver Dam Fire Protection
Imagine a fire station with no firefighters. That's been a persistent problem for the Beaver Dam Fire Department for years. The rural Cumberland County fire department built a second station and equipped it to serve the large district better but could not afford to staff it. The district is considered low wealth because of its rural tax base. The problem was "a lack of volunteers during daytime hours," said Assistant Cumberland County Manager Tracey Jackson.
Both Beaver Dam fire stations are located off NC Highway 210 not far from the Cumberland/Sampson/Bladen County line. County Commissioners, at the urging of Fire Commissioner Jimmy Keefe, agreed to provide the Beaver Dam department a $75,000 budget supplement to staff its Turnbull Road station with two firefighters cross-trained as EMTs. The funding will get the department through the balance of the fiscal year. The Joint Public Safety Task Force is studying potential ways of permanently solving the funding problem.
Sunday Brunch with a Beer
Cumberland County Commissioners have approved a local ordinance allowing restaurants to serve alcoholic beverages as early as 10 a.m. on Sundays. The North Carolina General Assembly gave cities and counties the authority to adopt local bills. The ordinance is identical to one passed earlier by Fayetteville City Council.
Commissioners had to take the matter up a second time because the initial vote was required to be unanimous. It was not. Commission Vice-Chairman Charles Evans voted against it. On second reading, a simple majority was all that was required. Evans voted no again, but it didn't matter. Most bars and restaurants in the county are in Fayetteville, but eight of them are in unincorporated areas. The ordinance also allows grocery stores to sell beer and wine Sunday mornings.
Sprint Joins Cumberland County Schools at Phone Fair
Sprint and the Cumberland County School system are teaming up to participate in Sprint and the Sprint Foundation's 1Million Project.
Participating local high school students will receive 1,180 free smartphones or laptops and free wireless service as part of an initiative to help close the homework gap. Seventy percent of high school teachers assign homework to be completed online. More than 5 million families with children do not have internet access at home. That's why Sprint created its 1Million Project.
CCS is one of eight school districts in North Carolina taking part in the project. The 2017-18 school year marks the first year of the five-year initiative involving more than 180,000 students in 1,300 schools in 30 states. In each of the next five years, hundreds of thousands of high schoolers who lack internet access at home will benefit from the 1Million Project.
Congressman Pittenger Opens Fayetteville Office
Rep. Robert Pittenger, R-N.C., unpacked boxes and hung pictures in his permanent Fayetteville office. It's on the third floor of the J.L. Dawkins Federal Building and post office on Green Street. The facility had been closed since October because of flooding from Hurricane Matthew. "We are excited to finally unpack," the congressman said. "At the same time, we recognize there are still families in Cumberland, Robeson and Bladen Counties waiting for necessary Federal Emergency Management Agency or HUD assistance to rebuild or repair their homes."
Hours are Monday through Friday, 9 a.m. to 5 p.m., though constituents are encouraged to call ahead as staff will regularly be out of the office at community meetings. For more information, call Jake Cashwell at (910) 303-0669 or email him at jake.cashwell@mail.house.gov.