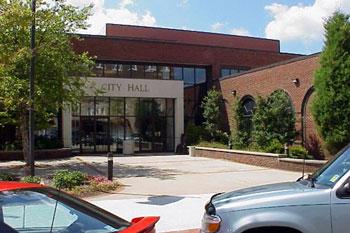 Ryan Ashley appeared before Fayetteville City Council the other day to make an unusual request. In so doing, he not only fought city hall, he won.
It all began when someone complained to the city about a utility trailer that was parked on a side yard of Ashley's home on Fairview Street off Sapona Road in East Fayetteville. A code enforcement agent checked it out and issued Ashley a citation. The problem wasn't that the trailer was parked there. The city's policy states that only single-axle trailers are allowed on residential properties. Ashley's is a dual- axle trailer. It has four wheels instead of two.
City council adopted the policy a couple of years ago at the urging of now-retired planning director Scott Shuford. Since then, the city has strictly enforced the regulation. Records indicate five cases have come before the planning commission this year. Only Ashley's case was appealed after the commission upheld the violation. City council has the final say, and Ashley made his appearance on Sept. 25.
Ashley came well-prepared and addressed the governing board respectfully. He told council that other homes in his neighborhood have dual tandem trailers and RVs, but only he had been cited. A city staffer verified that code enforcement agents were aware of that, but no other complaints had been made. In other words, it's apparently OK to violate policy so long as no one complains.
"I have a problem with this policy," said City Councilman Jim Arp. He said it makes little sense to distinguish between trailers with two wheels and those with four.
"This trailer is not a danger to anyone and is not visible from the street," added Councilman Larry Wright. A council majority agreed, and they voted 6-4 to overturn the planning commission's ruling. Councilman Bill Crisp was among those who supported the planning commission's decision. He intimated that residents with tractor-trailer semis will now ask the city to allow them to park in their yards. Arp and Councilman Ted Mohn argued that a situation like this is dealt with on a case by case basis and does not set a precedent.
City Attorney Karen McDonald verified that the appeal process was a legitimate course of action for Ashley. In a subsequent action, Mohn made a motion to approve Ashley's original request for the neighborhood compatibility permit, which had been denied by the planning agency. It too passed 6-4.
There is a stipulation. The trailer must be parked on a concrete surface adjacent to the carport, which is where Ashely has kept it.