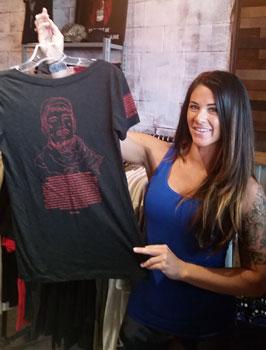 Wes Whitlock is a Marine who's also served as a high-threat security professional and executive protection specialist in the Middle East, Europe and the U.S. Last June, he opened a store called Rogue American in Austin, Texas. The Rogue American brand he's built, which grew from an online apparel store he founded in 2011, inspires and appeals to those who have lived and continue to live in extreme and challenging ways.
Whitlock planted a second Rogue American store right next to Fort Bragg, on Yadkin Road, soon after opening the Texas location. It opened a few weeks after Hurricane Matthew last October.
Krystal Shipley, who's lived in Fayetteville since 2013, was a Rogue enthusiast from the brand's online beginnings. She met Whitlock at the Arnold (as in Schwarzenegger) Sports Festival in 2016. Today, she's the general manager of the Fort Bragg location. It's a story that well-represents the Rogue culture of community and bringing in people.
"We like to call it an American brand," Shipley said. "It's kind of for everybody. But we're definitely geared towards the military, first responders, police and (vocations) like that."
Everything Rogue American sells is made in the U.S. Items include custom apparel, beard wash and oils and coffee. Merchandise is crafted and branded with the local community in mind. For example, Pat McNamara owns a gym in Southern Pines, and his name is stamped on one of the coffee blends Rogue sells. "It's probably one of our darkest blends," Shipley said. "If you met Pat, it would make sense. He's very intense." The store also sells Brothers in Arms Foundation coffee, donating $1 for every bag sold back to the nonprofit that supports the Marine Corps Special Operations community. Rogue also makes tribute shirts and donates 100 percent of the proceeds to the person or family the shirt honors.
"Anyone can print stuff on a shirt, … but the people behind the company are what make it special," Shipley said. "Excluding myself, everyone here is either a veteran, active duty or a military spouse. The stuff that they've all been through relates to other people."
And Rogue really is about the people, not just the products. The Fayetteville Rogue staff have worked with the Green Beret Foundation, local CrossFit competitions and the U.S. Veterans Corps, along with donating items to local charity raffles. They helped with Calliber Collision's Changing Lanes initiative, "the first program in the country to provide active duty service members with training and employment opportunities in the explosive collision repair industry prior to transitioning out of the U.S. Armed Forces." When a local soldier recently passed away, Rogue donated all its coffee sales for two days to the soldier's family.
Rogue has demonstrated that it's more than an apparel store and that the opening of its Fayetteville location was purposeful. "Yes, we're part of a bigger store, but we're here for Fayetteville and Fort Bragg," Shipley said. "That's why we're here."
Rogue American in Fayetteville is located at 6460 Yadkin Rd. To learn more about the company, visit www.rogueamericanapparel.com.