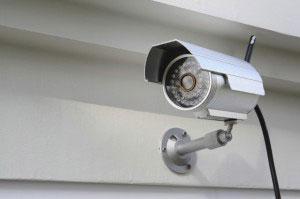 Police Cameras Not Working
The Fayetteville Police citywide network of surveillance cameras has been out of service for a year now. "The FPD has 133 cameras that are currently offline as we are working with a new vendor to get the system fully functional," said police spokesman Lt. Todd Joyce.
The cameras were purchased with drug forfeiture funds returned to the city by the federal government. Joyce said they went down during Hurricane Matthew in October of last year. A heavy rainfall within days of the hurricane made matters worse. "We have been working with a new vendor ... and work has been progressing to upgrade the system's infrastructure," Joyce said. There is no projected completion date.
Work on the Prince Charles Underway
Renovation of the former Prince Charles Hotel and demolition of the pavement and grounds where the adjacent minor league baseball stadium will be built are underway in downtown Fayetteville.
PCH Holdings project manager Jordan Jones said renovations to the interior of the eight-story building come first. "Barnhill Contracting of Rocky Mount, North Carolina, has a completion date of October 2018," he said. The PCH Durham development firm is spending up to $15 million to bring the eight-story building back to life. It will have 62 apartments and a posh penthouse where the eighth-floor ballroom used to be.
No Parking
The always-full Amtrak train station parking lot is no longer available to the public. That's where a four-story hotel topped with a four-story parking deck will be built.
Many city hall and police headquarters employees who have used that lot for years are now finding themselves having to park three blocks away. There are a privileged few who have reserved parking spots in the rear city hall lots. City Manager Doug Hewett told other city employees they can use free parking in a lot at the corner of Russell and Donaldson Streets. Or, for a reduced fee of $20 a month, they can lease spaces in the Franklin Street parking garage.
"Staff is actively pursuing additional parking opportunities," Hewett said. "But those resources are not expected to be available within the next six months."
Breast Cancer Awareness
During this month you'll see Fayetteville Police officers wearing pink patches in support of Breast Cancer Awareness Month. Over the past few months, the Fayetteville Police Department and the Fayetteville Police Foundation raised money from the sale of the pink patches and donated $2,300 to the Cape Fear Valley Health Foundation.
Breast Cancer Awareness Month is an annual campaign to increase awareness of the disease. The National Breast Cancer Foundation's mission is to help those affected by breast cancer through early detection, education and support services.
Crime Stoppers Update
Fayetteville/Cumberland County Crime Stoppers has launched a new website and alert system. Both are designed to keep the community informed and to encourage anonymous tips from community members. The Crime Stoppers website, www.fay-nccrimestoppers.org, has been completely redesigned and will allow the organization to keep the community informed of crime alerts, wanted subjects and other concerns in the community. Anonymous tips can be submitted electronically via the redesigned website which is also mobile-friendly. The Crime Stoppers hotline is (910) 483-TIPS.
Since its inception in 1984, Fayetteville/Cumberland County Crime Stoppers has provided information to law enforcement agencies, resulting in the arrest of more than 3,000 and the recovery of more than $6.7 million in stolen property and narcotics. Local Crime Stoppers has awarded callers with more than $300,000 in cash rewards.
Small-Business Seminar
The Fayetteville Area System of Transit's multimillion-dollar downtown transit center won't open until November, said Transit Director Randy Hume. That's 18 months behind schedule. Inspectors are wrapping up their work, and Hume said FAST will need at least four weeks to prepare for operations.
In the meantime, FAST and the U.S. Department of Transportation are partnering to co-host a free small-business seminar on Thursday, Oct. 26, from 3-5 p.m. The workshop is entitled "Small Business & Human Resources Basics" and will be held at FAST Headquarters at 455 Grove St.
It's an interactive workshop and will feature business planning strategies, an explanation of hiring employees versus taking on independent contractors, an overview of the basics of workers' compensation insurance and small business assistance resources. To register, visit www.eventbrite.com/e/small-business-big-growth-tickets-38496247312.
U.S. DOT's Small Business Transportation Resource Center is assisting FAST with the workshop.
4-H Camp Fund Raiser
A fundraiser in support of the Millstone 4-H Camp will be held Oct. 21. Pickin' in the Pines will be staged at the Millstone Camp at 1296 Mallard Rd., Ellerbe, North Carolina, from 6-11 p.m. Admission is $50 per person. Proceeds will go toward scholarships for children to attend the Millstone 4-H Camp.
For 78 years, Millstone has provided life-changing learning and recreational opportunities for children. It strives to provide rich camping opportunities to as many children as possible, regardless of their parents' ability to pay. Pickin' in the Pines will include bluegrass music, a live auction and a pig-pickin.'
For additional information, visit: go.ncsu.edu/millstone4hpickininthepines or see the Facebook page: PickininthePinesatMillstone.