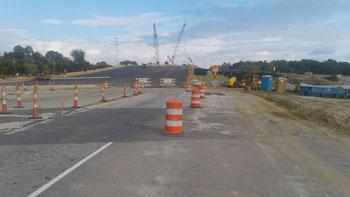 Construction of a pair of multimilliondollar railroad overpasses in downtown Fayetteville has been ongoing since November 2016. The project includes construction of a larger than usual 1,200-foot culvert to carry water beneath the roadway.
Cross Creek flows adjacent to Bragg Boulevard and has historically resulted in major flooding during hurricanes and heavy storms. The new structure will replace the aging Rowan Street bridge that was built 60 years ago. It will have six lanes of traffic, three in each direction, and a center concrete median. There will be sidewalks and retaining walls on each side.
The project is running about 15 percent ahead of schedule, said North Carolina DOT spokesman Andrew Barksdale. "We have not adjusted the original completion date of May 2020 because there is still a lot of intricate work to be done, and we may encounter weather delays in the future."
The Rowan Street bridge carries N.C. 24-210 over CSX railroad tracks, and separately the Norfolk Southern Railroad along with Hillsboro Street. The project is about a half mile in length. The new bridges will be opened to traffic in late 2019 with other minor work to occur afterward. The project will culminate in May of 2020, Barksdale added. Motorists are already seeing improvements to streets that will radiate from the Bragg Boulevard side of the bridges.
Rowan Street, Murchison Road and Bragg Boulevard will be realigned to meet at a single intersection. Except for the temporary rerouting of Hillsboro Street, there has been little disruption of traffic in the area.
Payments to the contractor are running 1 percent over what had been projected to have been paid at this point, according to Barksdale. The minor increase is because of some additional items of work that were identified after the contract was approved last year. "Spending may even out or be below the project bid of $24.3 million," Barksdale added.
The massive construction project is expected to be completed about the time season one of Fayetteville's Houston Astros minor league baseball team concludes. The adjoining stadium is to be completed well before the spring of 2019. What about the old bridge? It will be torn down.