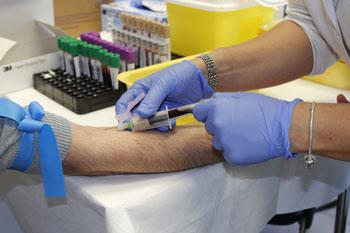 The Fayetteville Technical Community College Spring Lake campus offers a variety of corporate and continuing education classes to expand opportunities for career advancement, employment and lifelong learning.
Phlebotomy
The Phlebotomy program offers students an opportunity to learn a technical skill while maintaining a normal life schedule. This corporate and continuing education program requires a high school diploma or GED and a current CPR certification. The primary role of the phlebotomist is to obtain blood specimens and transport specimens for diagnostic testing. A student who completes the training and receives certification as a phlebotomist will be a key representative of any laboratory.
Basic Law Enforcement Training
Students of the Basic Law Enforcement Training curriculum receive essential skills required for employment as a law enforcement officer with state, county or municipal governments, or with private enterprise. FTCC offers a BLET informational/application workshop once a month. FTCC staff will email the date, location and time for the workshop to anyone who inquires with interest. Contact blet@faytechcc.edu.
Emergency Medical Services
The EMS program offers various levels of EMT, paramedic, critical care and community paramedic courses. Upon graduation, students are prepared to take the National Registry and/or North Carolina Certification exam, which then allows them to seek job opportunities in the EMS field.
EMS is not limited to working in an ambulance. Doctor's offices, hospitals, sporting events, factories and schools employ EMS personnel. Students will often utilize training in the field of EMS to propel them further into the medical field with the goal of becoming physician assistants, physical therapists, respiratory therapists and medical doctors.
In January 2016, FTCC's program received national accreditation through COAEMPS and CAAHEP, the Commission on Accreditation of Allied Health Education Programs. FTCC offers a variety of courses including day, night, weekend and online classes. If you believe that emergency medicine is for you, we invite you to try one of our courses. Emergency Medical Services is a very rewarding profession.
Pre-registration is required; visit Room 8 of the Neill Currie Building at the Fayetteville campus, call (910) 678-8251, or email EMSCONED@faytechcc.edu.
Registered Medical Assistant
FTCC's Registered Medical Assistant Program is a two-part course designed to prepare students to become a vital part of the ambulatory care setting as well as polish and perfect interpersonal skills. Students also learn administrative and clinical skills in this exciting, comprehensive medical assisting course. FTCC's program allows students to grow both professionally and personally and become a respected, marketable registered medical assistant.
The program offers flexible course choices including, day, night and hybrid options on two campuses and an instructor and administrative support system that is second to none. More than 150,000 medical assistant jobs are projected for the year 2020. Preregistration is required for this course. Visit Room 8 of the Neill Currie Building at the Fayetteville campus. For more information, call (910) 486-3923 or email healthprograms@faytechcc.edu.
Visit the Spring Lake campus to learn more about these and other programs available at FTCC.