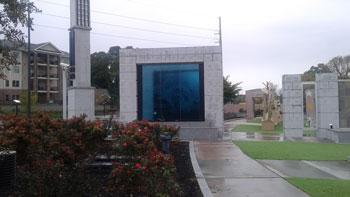 The city of Fayetteville continues to deal with remnants of damage caused by Hurricane Mathew a year ago. Crews continue to work on repairs to the unique pair of square water features at the NC Veterans Park downtown. They work for three or four days and then shut down, according to Parks & Recreation director Michael Gibson. They, and many other elements of the park, depend on underground computer-operated facilities.
"We've been working on the fountains for three or four months," Gibson said. The state built the park, but the city is responsible for maintenance. Gibson acknowledges that the public has become impatient because repairs to the water feature have taken so long.
"Matthew dumped 4 feet of water in the main building," he said, "and the Federal Emergency Management Agency covered that damage." He added that the city has hired a full-time engineer to work on the park computers.
An end to Spring Lake's road project is near
A massive highway project in Spring Lake is almost finished. NCDOT says motorists will encounter intermittent lane closures over the next few weeks as workers put the finishing touches on the $32.3 million project that widened and resurfaced three major roads.
DOT spokesman Andrew Barksdale said the lane restrictions are needed so crews can place permanent lane markings on Bragg Boulevard, Murchison Road and Lillington Highway. State highways 24, 87 and 210 merge in Spring Lake.
"This new road system was a collaborative effort between the North Carolina Department of Transportation and local officials working together to address a challenge," Spring Lake Mayor Chris Rey said.
Not all local business people are thrilled with the outcome. Some retail outlets went out of business because of limited access to and realignment of Bragg Boulevard. The project included these major improvements: A Poe Avenue overpass on Bragg Boulevard; closure of a major entrance to Fort Bragg at Butner Road and Bragg Boulevard; and relocation and widening of Murchison Road from four lanes to six. Murchison Road now ties into the future I-295 on the Fayetteville end of the project.
It took politics to bring Gov. Cooper to Fayetteville
Gov. Roy Cooper came to Fayetteville last week to campaign for city council member Mitch Colvin, who's running for mayor. Both are Democrats. Cooper's predecessor, Republican Pat McCrory, previously campaigned on behalf of incumbent mayor Nat Robertson, who's also a Republican. Had McCrory been re-elected, Robertson has said he would not have run for re-election. He had been promised a top administration post in Raleigh.
The Fayetteville City Council election is nonpartisan, but some candidates have felt party politics was good strategy. Cooper attended a fundraiser in downtown Fayetteville for Colvin. Tickets ranged from $150 to $1,000.
ASOM has a New Director
The board of directors of the Airborne & Special Operations Museum Foundation hired a new Executive Director, Michael (Mike) Lynch. He retired from the Army after 39 years of ser
vice, 33 of which were at Fort Bragg. He has previously served on the Foundation Board as an ex officio member and adviser. He was Director of Plans, Training, Mobilization and Security for the Army, which included supervision of Army Museums.
He's been involved with ASOM since its formation in 2000. "We are excited about the continued success of the museum and the foundation as it looks toward the future plans and development of the foundation and museum activities under the hand of such a proven, experienced and faithful leader," Jim Soffe, president of the foundation board, said.
Lynch has held several leadership positions in professional, civic and community organizations during his tenure in the Fayetteville area.
Local teen receives national recognition
Kennedi Whitener-Mason of Fayetteville has been selected from a pool of national candidates to attend The First Tee Outstanding Participant & Leadership Summit, Nov. 8–11, in Orlando, Florida. The First Tee is a youth development organization that introduces young people to the game of golf and its inherent values. The summit will be held in conjunction with The First Tee Network Meeting, a biennial conference of more than 800 local representatives.
Whitener-Mason is a member of The First Tee of the Sandhills. She attends Pine Forest Senior High School where she is in the Key Club, National FFA Organization and is a cadet in the Air Force Junior ROTC.
"I'm looking forward to continuing my education and learning new skills as I meet other participants with similar goals and interests," she said. She has been a participant in The First Tee of the Sandhills for 10 years and recently attended the USGA Learning Science through Golf Academy.