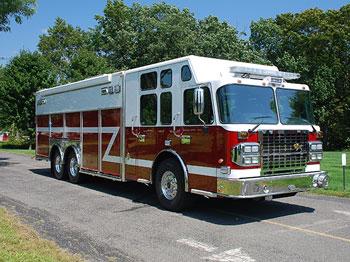 Cumberland County rural fire departments have faced increased operational costs for a couple of years with no increase in revenue. County commissioners provided short term, temporary relief for some departments earlier this year by borrowing money from a surplus fund. "We've outgrown the current funding model," said County Manager Amy Cannon.
Rural fire districts are supported by a 10cent tax, which is tacked onto the ad valorem property tax. Fayetteville, Hope Mills and Spring Lake home and business owners do not pay the extra tax because their costs are included in municipal property tax levies.
Cannon said the county could ask the state legislature to allow county government to increase the fire district tax. It's one option available to county government. A small increase in the sales tax is not available, Cannon said, because the county has maxed out its sales tax limit. "We have no hidden agenda going forward," Cannon told the Cumberland County Public Safety Task Force. She's leaving it up to task force members to come up with some ideas for an additional "sustainable funding source."
Fire chiefs believe the solution must be one that will meet the needs of the county's 17 rural fire departments, large and small. Suburban departments whose districts adjoin the city of Fayetteville are the largest, with annual budgets approaching $1 million. Their tax bases are urban in nature, comprised of residential subdivisions, commercial businesses and industry. The tax bases of smaller departments serving rural areas like Godwin, Falcon, Cedar Creek and Beaver Dam include scattered housing, farmland and forestry lands.
Wayne Lucas, chief of the Godwin-Falcon Fire Department, pointed out that his protection district includes a large section of I-95. Expenses mount up for departments responsible for responding regularly to motor vehicle crashes on major thoroughfares. Lucas was quick to point out that the lives of small-town residents and interstate travelers are just as important as those who have the good fortune of being served by larger fire departments.
"We've been putting Band-Aids on the system for a long time," said County Commissioner Jimmy Keefe, who also serves as the county's fire commissioner.
The fire chiefs who comprise the public safety task force agreed to form a committee of seven to study possible supplemental funding ideas.
Cannon asked that the group try to have a recommendation to her by February 2018 so she can review it and present it to county commissioners in April for possible inclusion in the 2019 fiscal year, which begins July 1.