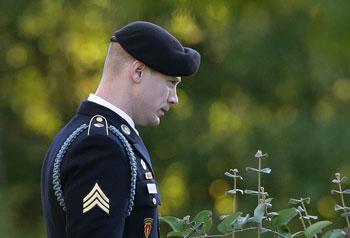 Admitted deserter goes free
The commander in chief of the U.S. military wasn't at all pleased with a Fort Bragg judge's decision to spare Army Sgt. Bowe Bergdahl from serving a prison sentence. Bergdahl pleaded guilty to deserting his post in Afghanistan in 2009.
"The decision on Sgt. Bergdahl is a complete and total disgrace to our Country and to our Military," President Donald Trump tweeted. Bergdahl won't serve time in prison for endangering his comrades by walking off his Afghanistan post, the military judge ruled. Army Col. Jeffery R. Nance sentenced Bergdahl to forfeit $10,000 in pay, a reduction in rank to private E-1 and a dishonorable discharge, barring him from receiving any medical or other benefits entitled to most veterans.
Bergdahl was captured by the Taliban and endured brutal captivity for five years before President Barack Obama struck a deal to release the captured soldier in exchange for Taliban prisoners. Immediately after he was captured, the U.S. military conducted a massive search operation that resulted in the deaths of six American soldiers. Trump called Bergdahl a "no-good traitor who should have been executed" last year, during his presidential campaign. The president's remarks could have played into Nance's decision, although he publicly denied it.
Panhandling unresolved
Some Fayetteville City Council members were disappointed at the last meeting that the administration hadn't recommended changes to the city's panhandling ordinance. City attorney Karen MacDonald gave members some options based on what other North Carolina cities are doing. But, she said recommendations won't be forthcoming until January. MacDonald, who reports directly to city council, wanted more council input and apparently needs time to research the law further.
Council members Bill Crisp and Chalmers McDougald like the idea of arresting people who give beggars money. They suggested fines and jail time for them. Councilman Jim Arp wants the city to launch an educational, public service outreach in the community asking people not to give panhandlers money.
Judicial review of alleged gerrymandering
The federal court has appointed a special master, Stanford Law professor Nathaniel Persily, to review proposed legislative districts from the latest Republican district map, which Democrats charge is just another gerrymander. The action suggests that the federal court believes the Republican Party is still illegally drawing districts based on race.
In its court order, the judges named Persily to sample and review North Carolina House districts in Sampson, Wayne, Wake, Guilford and Mecklenburg counties to address concerns that these districts failed to remedy the identified constitutional violation or are otherwise legally unacceptable. The judges and Persily will review the legality of the districts in question. The courts concluded earlier that districts mapped in 2011 were drawn for the sole purpose of facilitating and ensuring a Republican majority in the General Assembly, disenfranchising thousands of voters in the process.
Fayetteville police commander arrested
A city police captain has been charged by the Cumberland County Sheriff's Office with failing to report her husband's recent sex offender violations. William Augurson, 47, is a registered sex offender. He allegedly violated terms of his registration by unlawfully attending at least three events on protected premises, said Sheriff's spokesman Sgt. Sean Swain. The events were primarily intended for children, he said. Augurson's wife, Captain Tracy Bass-Caine, attended the events with him and, "being a law enforcement officer with the Fayetteville Police Department had an obligation to report this offense," Swain said. Bail bonds for both were set at $30,000. Police spokesman, Lt. Todd Joyce, said Bass-Caine had been suspended with pay.
Another Green Beret death – this time, murder
Two Navy SEALs are suspects in the murder of a Fort Bragg Green Beret who was assigned to the western African nation of Mali. It's the same part of West Africa where four other Fort Bragg special operators were ambushed and killed while on a surreptitious support mission in Niger. The Pentagon identified the fallen soldier as Staff Sgt. Logan J. Melgar, 34, of Fort Bragg's elite 3rd Special Forces Group. The Army's Criminal Investigation Command said he was strangled in a June 4 attack and was found dead in his hotel room in Mali's capital of Bamako.Military medical examiners determined the cause of death was "homicide by asphyxiation," The New York Times reported, citing unnamed military sources.
There have been five U.S. combat deaths this year in Africa – four in Niger and one in Somalia. Those are the only cases in which U.S. forces have been killed in action during the past 10 years, according to AFRICOM. There have been numerous other noncombat deaths attributed to malarial infection, driving accidents, and now, murder.
The Navy SEAL Team 6 members were quietly taken out of the country and placed in military custody on administrative leave, the Times reported. The Naval Criminal Investigative Service is now leading the investigation, according to U.S. Africa Command. These incidents have provoked questions in Washington. Members of Congress have voiced complaints that they are ill-informed about military activities in the region, some admitting that they were unaware of special forces' involvement in many parts of the world.