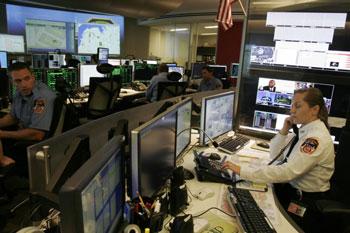 At a recent meeting, Cumberland County Commissioners indicated they were prepared to settle an issue that has confounded Fayetteville City Council for weeks. Commission Chairman Glenn Adams said at a meeting of the joint 911 Task Force that the county had agreed to let the city operate the planned $30 million center. But, the financial formula was changed by county officials when they agreed to let the city run the facility.
Deputy City Manager Kristoff Bauer and Assistant County Manager Tracy Jackson have been the principle negotiators. Bauer said Jackson's position is constrained by the board of commissioners.
"We do a disservice to the citizens of our community if we don't move this thing forward," Adams said. Commissioners want funding percentages for the center's operation to be based on the pro rata share of population between the city and county. All parties agree it comes down to a 64/36 population split with Fayetteville shouldering the larger share.
"This is as close as it's ever been," said City Manager Doug Hewett, referring to the back and forth between agencies.
The details are contained in a 16page interlocal agreement that the jurisdictions have yet to agree on. The agencies aren't far apart on percentages of operational expenses. But a city council subcommittee continues to propose that the cost of construction be based on calls for emergency services, not the formula the county has proposed. An acceptable formula the council subcommittee agreed to would cost the city $7.8 million with the county's share being $5.2 million.
"We're bending over for that," Committee Chairman Bobby Hurst said. "We could play hardball, but we can iron this out with the county," he added.
The subcommittee, comprised of Hurst, Councilwoman Kathy Jensen and Mayor Nat Robertson, voted 3-0 in favor of both funding formulas. The local governing bodies hope the State 911 Board of Directors will award local government $15 million toward construction of the communications center, which would be built on cityowned property off Fields Road.
There are still some ambiguities in the proposed agreement, noted Bauer, such as the structure of the communications center's advisory governing board. However, all parties are in agreement that the city and county managers would have final responsibility for decision-making.
A grant application to the state for partial construction funding must be submitted by the city of Fayetteville no later than Dec. 15. An application submitted two months ago was turned down because the agreement outlining which local government would be the lead entity was not included in the application. In counties where joint centers have been established, such as Wake and Guilford, the cities of Raleigh and Greensboro were designated as the lead agencies with operational responsibility.