Across the nation and in North Carolina, manufacturers and trades industries are facing daunting workforce shortages. Several factors have contributed to this gap in the skilled fields: many skilled workers are aging and retiring, creating a need for a replacement workforce; technological advances and a growing economy have created new jobs; and a decades-long emphasis on four-year college degrees has steered many young people away from skilled employment.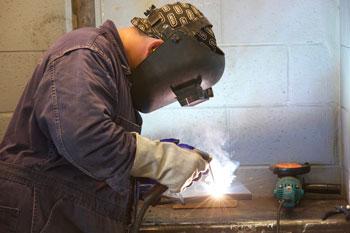 Many of today's young people are not aware of the opportunities in the skilled fields and leave four-year institutions with large debt and no marketable skills.
At Fayetteville Technical Community College, the Applied Technology division offers certificates, diplomas and degrees at affordable prices in many of these skilled fields. The Applied Technology division includes air-conditioning, heating and refrigeration, automotive systems technology, building construction technology, carpentry, collision repair and refinishing technology, computer-integrated machining, electrical systems technology, gunsmithing, industrial systems technology (a new program), plumbing and welding. Each of these programs leads to high-demand, high-skill careers. Companies seeking employees regularly contact us, but we lack enough students to fill the demand.
Many companies are starting to look to apprenticeship programs as a way to attract employees. Apprenticeship programs combine classroom instruction with on-the-job training. Participants work and earn a paycheck while they attend classes. Apprenticeship programs can last one to five years, depending on the occupation. Apprenticeships provide access to clear career pathways for employees and encourage loyalty in the company's workforce by demonstrating a desire by the employer to invest in their employees. As the result of apprenticeship, not only does the employee gain the skills for success, the employer gains a skilled employee who has grown up in the culture and vision of their company.
FTCC has worked closely with the State Apprenticeship Program to provide apprenticeship training in areas such as electrical, heating and air conditioning, industrial maintenance and machining. This hand-in-hand relationship just got stronger this summer when the State Apprenticeship Program and the Apprenticeship Council transferred from the North Carolina Department of Commerce to the North Carolina Community College System. FTCC is excited about leveraging its Applied Technology programs to create more apprenticeship opportunities to serve our community and our economy.
To learn more about the many skill training programs available at FTCC or about apprenticeship opportunities, call (910) 486-3930 or email gibsonp@faytechcc.edu.
Don't miss the opportunity to register for spring semester classes. Stop by the Fayetteville or Spring Lake campus or the Fort Bragg Training & Education Center for assistance in enrolling in FTCC and registering for classes. With over 250 programs of study to choose from – in program areas including arts and humanities, business, computer and information technology, engineering and applied technology, health, math and sciences, and public service – FTCC can quickly and affordably prepare you for a better future. Call (910) 678-8400, visit in person, or take virtual tours at www.faytechcc.edu for more details about what FTCC can offer. Preparing for a better future is a wonderful way to begin a new year.