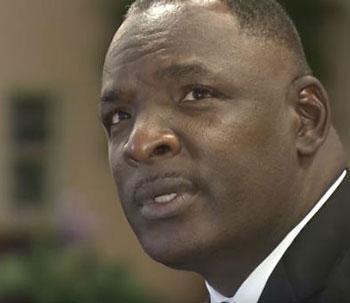 MISS: City Councilman Larry Wright's offensive reference to citizens
Fayetteville's new city council has been sworn in, and four new members have taken office. Their swearing in ceremony (which some council members call an inauguration) took place at Fayetteville State University at a cost of more than $6,000.
"Whatever we do is going to be criticized," said Councilman Larry Wright at a recent private council dinner meeting. "We cannot become submissive to the voices of those in the background," The Fayetteville Observer reported him saying. Those voices are the people of Fayetteville. Wright went on to say that the council should not take criticisms from the public to heart. And he didn't stop there. "We don't really get paid for what we do, but what we do is a sacrifice for us all." In fact, Wright receives $18,156 a year in city of Fayetteville wages and benefits from the "voices of those in the background" – better known as taxpayers.
HIT: POW-MIA remembrances
In the run-up to Veterans Day, the observance of annual Heroes Homecoming events included dozens, if not hundreds, of "Missing Man" tables exhibited in our community. Each table resembled a single place setting complete with a small American flag and Bible prepared for those who could not be there. It was a beautiful way to honor Vietnam War-era prisoners of war and those who are still missing in action.
Photo: City Councilman Larry Wright
HIT: Veterans Day
Veterans Day observances extended well beyond the holiday. That was evident on the parade field of downtown Fayetteville's Airborne & Special Operations Museum. Hundreds of American flags were on display, and, for a few days, the moving wall – a replica of the Vietnam Memorial – in Washington, D.C., attracted hundreds of visitors.
MISS: Street side landscaping
For years after the so-called Hurley pots were installed around downtown Fayetteville, the plantings were neglected. In recent years, civic groups have made sure that appropriate plants and flowers are kept alive and well. The city's new construction project along a few blocks of Person Street includes two dozen sizable areas for plantings or shrubbery. But, will they be kept up? So far, they haven't been.
MISS: Police improper parking
In nonemergency situations, police officers should set an example for others and not park in clearly marked fire lanes and noparking zones. They are not special characters … regular folks could get tickets for doing that.
HIT: Sign improvement
Hats off to the owners of Brantley Electronics on Bragg Boulevard. They sandblasted the building's facade to clean off several years of unsightly discoloration. City regulations govern the condition of commercial signs. But officials say Brantley didn't have to clean the building because the large letters on the front of the structure are not considered a sign. They did it anyway.
MISS: St. James Square
The busy intersection of Green Street, Ramsey Street, Rowan Street and Grove Street is tricky and potentially dangerous. New construction has made left turns from Ramsey and Green Streets problematic. Drivers find themselves facing near-miss head-on collisions because the lane separation is extremely narrow.
HIT: Spontaneous acts of kindness
A very big hit to Shirley Hartness and the Snyder Memorial Baptist Church Prayer Group that meets at Mary Bill's Café every Tuesday morning. Twice during the past seven weeks, we have witnessed Hartness walk boldly into a room of active duty military men and women and not only thank them for their dedication and service to our country, but she also picked up the tab for their breakfast. It is this kind of spontaneous act of kindness that defines our community. Thank you, Mrs. Hartness, for this display of unconditional appreciation.