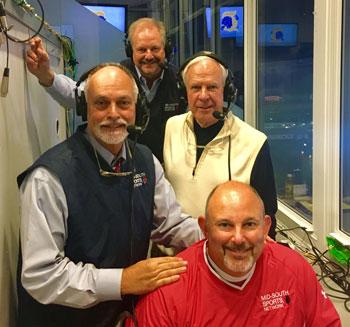 SPARTANBURG, S.C. - Fayetteville- based Mid-South Sports Network will serve as the broadcasting partner for the 81st annual Shrine Bowl of the Carolinas scheduled Saturday at 2 p.m. at Wofford College's Gibbs Stadium.
The Shrine Bowl is the oldest high school football all-star game in the United States, pitting the top high school seniors from North and South Carolina annually in a game that benefits the 21 Shriners Hospitals for Children across the country, including the one in Greenville, South Carolina.
"It is an honor to have been selected by the Shrine Bowl Committee and to be a part of this all-star spectacular,'' said Charles Koonce, president of Mid-South Sports. "It is nice to be recognized and rewarded for something we love to do – broadcast high school football. But it is even more humbling to know that we are a part of a longstanding program that has seen literally thousands of the best high school athletes in North and South Carolina and has raised millions of dollars for Shriners Hospitals."
Mid-South Sports was founded in February of 1990 for the purpose of promoting and producing sporting events in the Fayetteville/ Cumberland County area. The late Lloyd Foster, David Foster, Charles Koonce and Don Koonce were the founding members. Since Lloyd's death in January 2005, the tradition has continued through Charles' and Dave's leadership as co-owners. Lloyd began broadcasting Fayetteville High School football games in 1952. Dave Foster joined the team in 1973 and Charles Koonce in 1979.
The group incorporated as Mid-South Sports, Inc. in 1990 and began producing the longstanding "Friday Night High School Game of the Week." Together the team has broadcast over 360 Fayetteville and Cumberland County football games, including 10 state championship games in the last 27 years.
Other members of the broadcast crew over the years have included Steve Driggers, Billy McMillian, Ray Quesnel and Tim Lancaster.
"We're proud to carry on the tradition that dad – Lloyd Foster – started way back in 1952", said Dave Foster, vice-president. "I think he'd be pleased with the progress we have made as a company, and I know he would be excited about the opportunity for our team to be a part of the Shrine Bowl."
Photo: Clockwise from the bottom: Billy McMillian, Steve Driggers, Dave Foster and Charles Koonce.