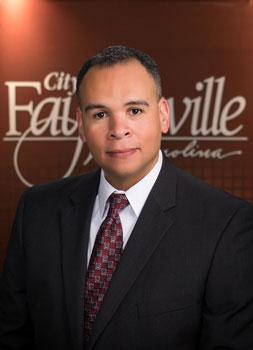 Fayetteville City Manager Doug Hewett got a pay raise when his employment contract was quietly renewed in October. City council had given Hewett a one-year deal in 2016 to see if he would turn out to be the right man for the job. He succeeded Ted Voorhees who was fired. City spokesman Nathan Walls said Hewett received a $10,000 raise from $185,000 annually to $195,000 plus $6,000 in additional "executive compensation." The new agreement is open-ended, as contracts for city managers normally are. Hewett serves at the pleasure of city council.
Internet knowledge for parents
A local workshop in Spring Lake last week was likely a wake-up call for some parents. Cumberland County Schools held the forum at Manchester Elementary School to help parents learn how to protect their children from online risks. Natalie Wood Riche of the North Carolina Department of Justice discussed with parents how exposure to cyberbullying, cyberstalking and sexting could cause harm to youth. Parents were also alerted to the reality of child predators. Riche shared tips on what to do if a youngster becomes a victim of cyberbullying or cyberstalking.
Dosomething.org, a global movement of 5.5 million young people making positive change online, found that nearly 40 percent of all teenagers have posted or sent sexually suggestive messages, but this practice is more common among boys than girls. Sending semi-nude or nude photos is more common among teens girls. Twenty-two percent of teen girls report sending images of this nature, while only 18 percent of same-age boys have.
Back to the judicial drawing board
A three-member panel of federal judges has again struck down a North Carolina Republican legislature's proposed congressional election districts. They declared the revised map unconstitutional partisan gerrymandering and gave state lawmakers until Jan. 29 to come up with new maps.
The judges, in a decision authored by Judge James A. Wynn, unanimously held that the Republican congressional map violated the U.S. Constitution's equal-protection clause because it favored their party.
"The General Assembly intended to discriminate against voters who supported or were likely to support non-Republican candidates," Wynn wrote, and "the 2016 Plan dilutes the votes of non-Republican voters and entrenches Republican control of the state's congressional delegation."
The ruling creates uncertainty in the 2018 election cycle in North Carolina a month before candidates were scheduled to file for office. Until the issue is resolved, the appeals court ordered that new congressional elections are on hold. Legislative leaders say they plan to appeal to the U.S. Supreme Court.
Sexual abuse in the armed forces
It was a traumatic moment for Nichole Bowen- Crawford. The last thing she wanted to do was fly across the country to stand in the bitter cold outside the Pentagon in Washington, D.C., to tell those who would listen about being assaulted by a fellow soldier and then silenced by her superiors. But she did it because she believed she had to speak up and encourage others like her to break their silence.
"Standing up for the men and women who serve our country who can't report sexual assault in a safe way is more important than my feelings," she said. "It's time ... that men and women have the freedom to say 'Me, too,' instead of (maintaining) silence." Bowen-Crawford joined a small cadre of military sexual assault survivors who demanded accountability from Pentagon leadership. "The truth is, I am really scared to be here, really scared to tell my story," she told a small crowd gathered at the Pentagon gates.
Despite efforts to reduce the occurrence of military sexual assault in recent years, the Pentagon estimates more than 6,100 sexual assaults took place in fiscal year 2016, about the same as in the two previous years. The Pentagon estimates that two-thirds of victims don't come forward, which means there were more than 18,300 sexual assaults for each of those years.
Lydia Watts, CEO of Service Women's Action Network, organized the protest. "When do we see military perpetrators of sexual violence held to account?" she asked. Protestors demanded that the Pentagon take increased action to stop sexual assault by changing what several called a misogynistic military culture. They called on leaders to take assault cases out of the hands of commanders – a change that has been championed by Sen. Kristen Gillibrand, D-NY. Military leadership has blocked the proposal, claiming it would undermine command authority. Inside the Pentagon, Army Col. Rob Manning said there is "zero tolerance" for sexual assault or harassment in the military.
The people speak about community needs
The city of Fayetteville's Economic & Community Development Department is hosting a series of citizen participation meetings to help identify needs in the community in preparation for the department's 2018-19 Annual Action Plan. Topics of discussion include housing and economic development. The meetings are designed to allow citizens the opportunity to voice their concerns and identify needs. They will learn how federal community development funds are utilized. Feedback collected from participants will help staff develop a revised action plan to be presented to city council for consideration.
Remaining meetings will be held Tuesday, Jan. 23, at 7 p.m. at Hollywood Heights Community Center on Pritchett Road and Tuesday, Jan. 30, at 7 p.m. at the Old Wilmington Road Neighborhood Resource Center.
Photo: Fayetteville City Manager Doug Hewett