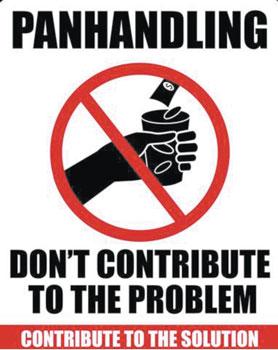 Fayetteville City Council isn't satisfied with the draft of a revised ordinance the city attorney's office has proposed to deal with panhandling in the city. Police Attorney Brandon Christian outlined an ordinance that would fine occupants of motor vehicles for giving items to panhandlers in the roadway.
"There is ambiguity in the way the ordinance was drafted," Christian admitted. He told council the U.S. Supreme Court has held that offering money to someone is a First Amendment form of protected free speech.
Council members urged the city attorney's office to concentrate on dealing with beggars as a public safety issue instead of a panhandling issue. Six months ago, council member Jim Arp raised concerns about panhandlers disrupting business, noting that customers are often preyed upon in busy shopping areas by men begging for money.
Freshman Councilwoman Tisha Waddell urged her colleagues to stop referring to the ordinance draft as a panhandling regulation. "It's about the safety of the streets," Waddell said.
Others agreed with Waddell's views, including Police Chief Gina Hawkins.
"We don't have the manpower to enforce panhandling," she said. She and others noted the existing ordinance and the new draft treat violations as civil not criminal issues. "I'm in favor of keeping safe streets for everyone, and right now it's not safe with people in the medians," Hawkins said.
Mayor Pro-Tem Ted Mohn said he wanted the administration to recognize enforcement differences along residential streets and thoroughfares. He said he would be in favor of changing the ordinance to allow the exchange of items between pedestrians and motorists on neighborhood streets that are not clearly marked as traffic lanes. That, he said, would allow ice cream venders to conduct business in residential communities. He cited it as one example of the difficulty of crafting an ordinance on panhandling.
Councilman D.J. Haire said he has concerns about penalizing people for giving money and clothing to panhandlers. Johnny Dawkins agreed. "I'm not going to support fining people for giving money," he said.
The city's original ordinance, which is still on the books, was adopted in 2008. It bans panhandling in the downtown area, and everywhere in the city after dark. It prohibits panhandlers from begging while standing on roadway medians and shoulders, but as a practical matter it is rarely enforced. Courts have declined to prosecute panhandlers.
"We have to deal with this in a comprehensive way," Arp said. He and most other members of council want to undertake a massive public education campaign designed to discourage residents from giving money to panhandlers while at the same time keeping panhandlers out of the streets.
"We've missed the point … it's not about giving; it's where they give," Arp said. City staff will continue efforts to perfect an ordinance.