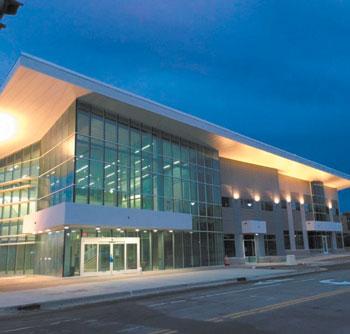 HIT (Downtown community room)
The new Fast Transit Center has a facility that has already caught on. It's a public community room on the second floor (yes, there's an elevator). The large space can accommodate meetings of public and private organizations, taking demand off the few other such rooms downtown. Modest fees are charged for nonprofit and business groups.
HIT (Downtown skyline)
Fayetteville's skyline is about to change for the first time in 40 years. The 11-floor Systel building will no longer be downtown's tallest structure. A new apartment complex being built by PCH Holdings atop a five-story parking deck adjacent to the baseball stadium will make that structure two floors taller.
MISS (Roadside trash)
A year ago, Fayetteville City Council added two crews and a pair of pickups to patrol our main thoroughfares to pick up debris. I presume they're still doing it, but frankly, it's hard to tell. The problem is that our city's 148 square miles make it the second largest municipality in the state in land area. Somehow, we've got to do more.
HIT (Hay Street restauranteurs)
Restaurant owners with rear entrances on Old Street agreed to get rid of the garbage cans along the narrow sidewalk. The Cool Spring Downtown District helped solve the problem by working with Waste Management to place dumpsters behind the Arts Center.
MISS (City skyline)
Fayetteville is the largest city in North Carolina without skyscrapers. We've grown out, not up. Why? Our city lacks the big businesses others have thrived on; no major banks or companies with corporate headquarters here. It's an illustration of why economic development is so important to Cumberland County.
HIT (Traffic cops)
The police seem to be placing greater emphasis on speeding. I've seen cops parked along busy streets with their radar guns, and that's good.