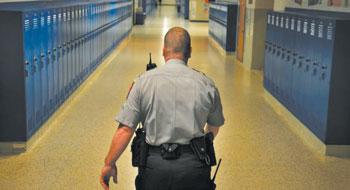 Cumberland County Sheriff's Office School Resource Officers patrol all 90 Cumberland County school campuses, including those located in Fayetteville, Hope Mills, Spring Lake and Stedman. The sheriff's office was given the countywide responsibility 30 years ago, when then-Fayetteville Police Chief Ron Hansen suggested school duty was better suited for the sheriff's office because schools are governed and operated by county government.
The school system pays the sheriff's office to provide law enforcement coverage. Middle schools and high schools have permanently assigned deputies. Elementary schools are patrolled on a regular basis but do not have assigned officers.
SROs are responsible for enforcing the law and more. Cumberland County Sheriff Ennis Wright's office did not respond to inquiries about the program. Ordinarily, student resource officers provide security during school hours and after-hours special events on campus, such as athletic events, dances and assemblies.
SROs serve as liaisons between Cumberland County Schools and the sheriff's office. They assist school administrators in emergency crisis planning and security matters. They work to prevent juvenile delinquency through close contact and positive relationships with students.
They also develop crime prevention programs and conduct security inspections to deter criminal or delinquent activities.
Mo Canady, executive director of the National Association of School Resource Officers, said it takes a special kind of officer to be an SRO.
"It's one of the most unique jobs in law enforcement, and it takes a unique individual who understands that, to some degree, students have a different way about them sometimes," he said. "They're going to say and do things that we might not like but (that) are not necessarily criminal in nature."
Jim St. Germain is co-founder of Preparing Leaders of Tomorrow, a nonprofit mentoring group. "What teachers do now is call on officers and ask them to handle things," he said.
When "handling" leads to punishment or a suspension or worse, it can have an adverse effect on a student's development. A study by The Council of State Governments Justice Center found that being suspended or expelled can make a student nearly three times more likely to come in contact with the juvenile justice system within the following year.
North Carolina House Speaker Tim Moore, R-Cleveland, has formed a bipartisan House Select Committee to take a closer look at school safety and security.
"Fortunately, in North Carolina we have not had the incidents we have seen in other states, but that doesn't mean it couldn't happen," Moore said.
The committee will look for ways to identify threats, find ways to improve facilities and provide training and resources.
"We need to protect our children. And they shouldn't be going to school being afraid that something like this is going to happen again," said Marge Hooper, with the Women Republicans of Cleveland County.