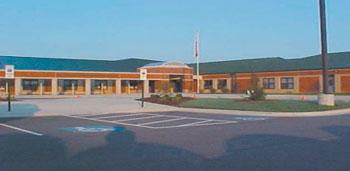 On Tuesday, May 15, at 8:16 a.m., Gallberry Farm Elementary School in Hope Mills went under lock down. A man who was seen wandering the school had not checked in with the school's office. Cumberland County Schools Chief Communication Officer Renarta Moyd said, "An unidentified man walked into the school cafeteria looking for his child and was acting strangely. As a precaution, the school went into code red lockdown. Cumberland County Sheriff's deputies responded and took him into custody."
Lt. Sean Swain, the Cumberland County Sheriff's spokesman, explained, "The School Resource Officer from Grey's Creek responded and had the unidentified man in custody at 8:26 a.m. When our K-9 officer arrived, the suspect was already in handcuffs."
The man, identified as 33-year-old Pierre Kevon Miller of Fayetteville, was charged with trespassing, damage to property, resisting arrest and assaulting an officer. He did not have a weapon. No one was harmed, and there was no further incident. Sheriff deputies investigated why the man was in the school. Lt. Swain added, "The school's prep plan took place like it was supposed to."
Will term limits increase?
Some members of Fayetteville City Council are contemplating a change to council members' term limits from two to four years. The idea was discussed during a council work session on May 7. Councilman Larry Wright said he thinks it makes sense to give the elected official time to do policy.
Councilman Jim Arp is against the idea. He said, "After what we've just gone through," referring to the recent controversy with former Councilman Tyrone Williams, that it's not fair to the citizens to not give them new options at the two-year point.
Councilwoman Kathy Jensen expressed that voter turnout would be boosted in the years that the mayor would run. And she noted that the district where the mayor lives would see higher turnout
Mayor Pro Tem Ted Mohn mentioned the council previously considered four-year terms but the vote was deadlocked at 5-5.
May 28, City Council will hold a public hearing on its desire to extend members terms of office from two years to four years. If the city code is changed, the members' four-year terms would likely be staggered, although that provision is not included in the resolution. The proposed changes would take place following the next municipal election in November 2019.
Opioid Use Disorder
The use and abuse of opioids is now considered a chronic issue. The North Carolina League of Women Voters says nearly half the people with Opioid Use Disorder have no health insurance coverage. They cannot be accepted into rehab programs, pay for medications or receive longterm care.
NC House Bill 662, dubbed Carolina Cares, proposes an affordable insurance-like program for working North Carolinians who are not eligible for Medicaid. Unintentional opioid overdose deaths have risen dramatically over the last 16 years, according to the NCLWV. Heroin, fentanyl and other synthetic drugs are outpacing prescription medications as the principal cause of overdoses.
The LWV urges the state legislature to conduct a hearing on the Carolina Cares proposal during the legislative session now underway.
Animal shelter pet adoption hours change
The Cumberland County Animal Control Shelter, located at 4704 Corporation Dr., has temporarily adjusted its weekday hours for adoption services. The shelter now opens at 11 a.m. and closes at 5:30 p.m., Monday through Friday, and is open Saturday from 1-5 p.m. Drop-off and owner claim hours remain unchanged.
The change in adoption hours results from staffing changes at the shelter. The new schedule ensures adequate staff is available in the afternoons, which is the shelter's busiest time.
"The change in hours should have minimal-tono-impact on adoptions," said Shelter Manager Jennifer Hutchinson-Tracy. "We would never do anything that would make it more difficult for an animal to be adopted or reclaimed."
Shelter attendants will be better able to focus on caring for the animals and cleaning and preparing the animal housing areas.
Learn & Burn Longleaf Pine Workshop
Private landowners are invited to an Evening Learn & Burn Longleaf Pine Workshop. The workshop will be held Thursday, May 31, from 5:30-8:30 p.m., at 535 Speight Rd., West End, North Carolina. Dinner will be included.
Grant funding from the National Fish and Wildlife Foundation (http://nfwf.org) makes this a no-cost event for attendees. There will be discussions and demonstrations (weather permitting) about the opportunities for prescribed burning during the growing season. Attendees will learn best management practices for pinestraw raking as well as converting from loblolly to longleaf. Beetle prevention will also be discussed. RSVP to Jesse Wimberley, Sandhills Area Land Trust, by calling 910-603-1052 or emailing jesse@sandhillslandtrust.org.