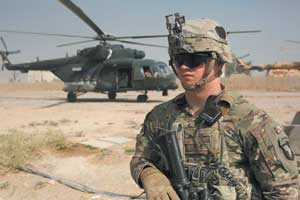 It was just a few months ago that then Lt. Gen. Stephen Townsend brought Fort Bragg's 18th Airborne Corps headquarters element home from Iraq. Soon there after, Townsend got his fourth star and was reassigned. In another five months or so, the nation's lead airborne headquarters will head back to the Middle East, the Pentagon announced. Fort Bragg's new commanding general, Lt. Gen. Paul LaCamera, will go to Iraq with several hundred soldiers of his headquarters unit.
The 101st Combat Aviation Brigade, which is part of the 101st Airborne Division (Air Assault) out of Fort Campbell in Kentucky, will be deploying to Afghanistan during the summer. The 101st is an elite, specialized light infantry division. Trained for helicopter operations, it is the most potent and tactically mobile of the U.S. Army's divisions.
The 101st CAB will replace the 3rd Combat Aviation Brigade of the 3rd Infantry Division based at Fort Stewart in Georgia as part of a regular rotation of forces to support Operation Freedom's Sentinel, according to the Army release. Operation Freedom's Sentinel includes two core components: working with allies and partners and continuing "counter terrorism operations against the remnants of Al-Qaeda to ensure that Afghanistan is never again used to stage attacks against our homeland."
Most of the brigade's soldiers will deploy and are expected to return in the spring of 2019, said Capt. Kris Sibbaluca, a brigade spokesman. He said the brigade will provide aviation support to troops on the ground using Black Hawk, Chinook and Apache helicopters. "The deployment will be a challenge. However, we do not doubt that our soldiers are ready," said Col. Craig Alia, the 101st CAB commander.
The 18th Airborne Corps will replace Third Corps Headquarters of Fort Hood, Texas, as part of a regular rotation of forces to support Operation Inherent Resolve. It is the operational name for U.S. military intervention against the Islamic State in Iraq and Syria. Since August of 2016, the 18th Airborne Corps has been responsible for the Combined Joint Task Force – Operation Inherent Resolve. It will oversee this combined joint task force fighting the Islamic State and set conditions for follow-on operations to increase regional stability, according to the operation's website.
Since Inherent Resolve began in late 2014, headquarters units of 18th and 3rd Corps have alternated deployments by their headquarters units. In the past, these rotations have lasted about one year.