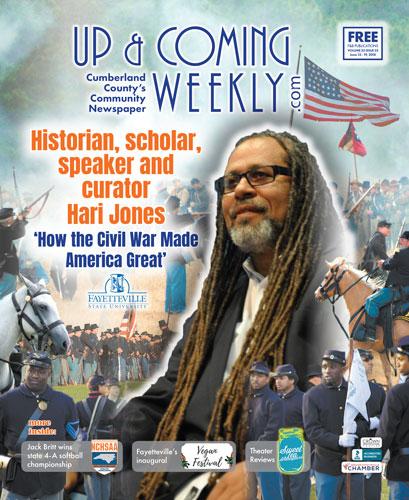 In general, we think we know history, or at least have working knowledge of it. Finding out differently can be enlightening and even jarring, but knowing the truth, in context, is freeing – for everyone. Tuesday, June 19, the North Carolina Civil War & Reconstruction History Center presents Hari Jones, an expert on the role of African-Americans in the Civil War. Jones' speech "How the Civil War Made America Great" begins at 7 p.m. and will take place at Fayetteville State University in the Rudolph Jones Student Center.
Jones has shared his extensive knowledge of African-American history on programs and documentaries aired on CSPAN, Fox News, NBC, PBS, BBC, the American Heroes Channel, the History Channel, the Smithsonian Channel and many local outlets. He was a content developer for the National Park Service museum at the Tuskegee Airmen National Historic Site in Tuskegee, Alabama, a content adviser for the American Civil War Center exhibit "Take Our Stand" and a content adviser for the National Archives and Records Administration exhibit "Discovering the Civil War." He also curated the exhibit "Clearing a Path for Democracy: Citizen Soldiers of the Fighting Eighth in World War I" at the DuSable Museum of African-American History in Chicago.
Jones credits his grandmother and great-grandmother with fostering his passion for history. "I was a curious child," he said. "I was really interested in the military, so they directed me to books written by African-American authors like William Nell, whose book 'The Colored Patriots of the American Revolution' was published in 1852." Jones read extensively about the African-American experience throughout our nation's history, specifically seeking out sources written by African-Americans so he could learn about their viewpoints.
Jones continued to study the military and history, eventually joining the Marine Corps where he served as an infantryman, an artillery officer and an intelligence officer. As an instructor at the U.S. Naval Academy, Jones had an experience that focused his passion for American history, specifically from the African-American perspective.
"I taught Marine Corps practicum," Jones said. "I asked one of my peers why there were no African-American teachings on American war, and he said, 'because they didn't write anything.' I knew that was false, so I realized this was a need even in our military academies. So, when I retired, I went to the Library of Congress."
Jones spent almost every day there for about three years. During that time, he read books from the perspective of African-Americans. But when he wanted to study what he called "the big picture" and strategy, he found that the African-American voice was missing. "It was annoying because it was like telling the story of the NBA finals and making it appear there were no African-Americans on the court," Jones said. "So, I started working more on finding primary sources. Once I was conversant, I wanted to share what I knew."
And he's been doing that ever since. He said it's not always easy, though, because Americans have certain perspectives ingrained in the collective psyche. And these perspectives are often factually incorrect and even destructive.
"One of the biggest challenges in telling history accurately is that we have so many people invested in false narratives and who are even victims of false narratives," Jones said. "Often, they've been successful and have even built their career on it. Think about it this way: If you go to the doctor and tell him lies about your family's medical history, he can't help you as he could if you told him the truth. America as a country cannot heal what ails us if we don't face our truth."
When the North Carolina Civil War & Reconstruction History Center was in the early planning stages, senior consultant David Winslow took a group of leaders from Fayetteville to look at museums in Washington, D.C. The team visited the African American Civil War Museum. That's where they first heard Hari Jones; he was giving a talk on the Civil War from the African-American perspective. "It was an eye-opening experience," Winslow said. "This is an important part of the American story. We invited him to Fayetteville in 2012, and he gave a talk at Cape Fear Regional Theatre. It was filled to the rafters with more than 400 people. We knew we wanted to have him back, and this seemed like the perfect time. Where he is coming from is different (than) where others come from."
The presentation scheduled for June 19 focuses on the perspective that there were no losers – North or South, Union or Confederate – because the war effectively formed a more perfect union and secured liberty for millions of Americans who had not known such freedom before. In his talk about how the Civil War made America great, Jones stresses that the Civil War story "belongs to all of us. It is the story of how we got rid of that which made us less than great."
One way that Jones approaches the topic is his stance that in being honest about who we are as a country, we need to tell history not based on which side our ancestors fought on.
"All of us who are Americans should be pleased with the outcome," he said. "I hope this takes us to (a place) where, when we talk about this subject, we talk about it as Americans. I hope I
can work in telling the story in such a way that people are not making it a race discussion but a discussion of how America became great. I want America to appreciate this chapter in our history as an American story – because it is an American story."
The lecture, which is free and open to the public, comes on Juneteenth, or Freedom Day, an American holiday that commemorates the June 19, 1865, announcement of the abolition of slavery
in Texas. It has also come to commemorate more generally the emancipation of enslaved African-Americans throughout the former Confederacy.
For more information, call the NC Civil War & Reconstruction History Center at 910-491-0602 or visit www.nccivilwarcenter.com.
.