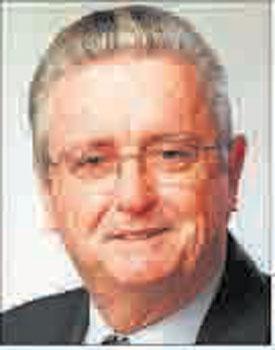 George T. "Tommy" Griffin was known as an innovator to colleagues. The courthouse crowd also knew Griffin as a fun-filled prankster. He was dedicated to the staff of the Cumberland County Superior Court Clerk's office. Griffin was buried last week following his death from a long illness. He was 77 years old and served as clerk of court for nearly 30 years.
Griffin was appointed in 1972, four years after what was then called "the new courthouse" was opened. He won election every four years after that without opposition. Griffin surprised a lot of people when he decided to run for sheriff in 2001. He lost the democratic primary to Earl "Moose" Butler in the 2002 Democratic primary election.
In the early 1960s, he paid his way through college at what was then Pembroke State University. Soon thereafter, Griffin became involved with the state's Administrative Office of the Courts in Raleigh. He was a leader in creating a unified state court system after Tar Heel residents passed a constitutional amendment. Under this uniform judicial system, administration and budgeting were centralized. All court personnel are now paid by the state, and the Administrative Office of the Courts is responsible for developing a single budget for the entire judicial system.
North Carolina Superior Court clerks serve as probate judges. Domestic relations cases involving alimony, child support, child custody, divorce, equitable distribution and juvenile matters are also heard in this court. The clerks also maintain criminal court, civil court and juvenile court records as well as estate records. They provide courtroom clerks for all sessions of court in their respective counties.
Colleagues were impressed with Gifford's forward thinking when he became superior court clerk in 1972. As new computer database and record-keeping technologies became available, he implemented them as budgets would allow. Cumberland County began pilot programs that soon went statewide.
Tommy Griffin was especially keen on his responsibility to the public, providing citizens access to all public court records.
He also collected fines and court fees and doled out child support payments.
Former Senior Resident Superior Court Judge Coy Brewer said Griffin was the driving force behind a pretrial release program that Cumberland County implemented to reduce overcrowding at
the jail.
Griffin's senior assistant clerk, Linda Priest, took over for him when he retired in 2001. "He loved a good time" and was quite a jokester, she said.
Chief District Court Judge Robert Stiehl noted Griffin's ability to hire hardworking, smart people. Griffin's survivors include his wife, Pamela, and two sons.
PHOTO: George T. "Tommy" Griffin served as clerk of court for nearly 30 years.