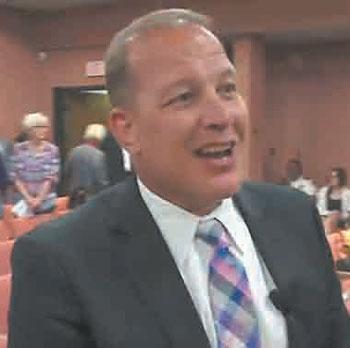 A lot has been written about the diversity of Fayetteville City Council District 2. Another freshman politician has been chosen to succeed former Councilman Tyrone Williams. Williams resigned in May after being accused of attempting to bribe PCH Holdings' Jordan Jones. The FBI's Public Corruption Unit has been looking into the allegation.
Local Chiropractor and construction contractor Dan Culliton was appointed by council to succeed Williams last week. "District 2 is traditionally not as apt to choose someone like me," said
Culliton, who is white.
District 2 is one of four predominantly African-American districts created by the 2010 census to provide for the likely election of minority candidates. However, two other white men have been elected in recent years. Kirk deViere most recently served the district before deciding to seek higher office, paving the way for Williams. In the mid-2000s, businessman Paul Williams was the District 2 council representative.
Culliton, 48, will be sworn in June 25. He finished runner-up to Tyrone Williams in last year's general election and will serve the remainder of Williams' term.
Culliton told Up & Coming Weekly he isn't sure if he will seek election next year. He said it will depend on the will of the people.
"I'm going to be a strong voice for the district," he said. Of his selection by city council, Culliton said, "They did the right thing; I've been engaged in the district for a long time."
The district is shaped like a fan with five blades. It also includes a satellite residential area near Fayetteville Regional Airport. Its population is 57 percent African-American.
The Cumberland County Board of Elections says there are 16,740 registered voters in District 2, an impressive percentage of its 22,000 residents. Of that number, 9,498 voters are African-American. There are 5,039 white voters. But, only 2,600 voters turned out in the general election last November. Williams received a 56 percent majority.
District 2 is thought of as primarily serving the downtown area and East Fayetteville. There are portions of 21 voting precincts in the district. It also covers a significant part of Haymount north of Hay Street over to Westmont Drive. On the northside, it includes areas along Ramsey Street as far north as Tokay and Country Club Drives. To the west, the district blankets areas north of and along Bragg Boulevard to Cain Road, where it butts up to District 4. And, east of the river, District 2 encompasses mostly residential neighborhoods from Person Street to Cedar Creek Road out to I-95, exit 49. It goes south along Southern Avenue and Legion Road and on Owen Drive to Village Drive.
PHOTO: Dan Culliton