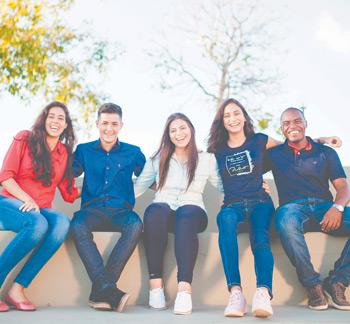 The first day of summer has rolled around once again, and in light of the current hot temperatures with accompanying high humidity, many are probably dreaming about escaping to the ocean with a nice, flowing breeze and just taking it easy for a while. But this time of year is also time to prepare for attending college. Fayetteville Technical Community College is registering students for fall 2018, and the sooner students begin the process, the better.
Students should complete the FTCC application and the free financial aid application now to ensure that all the paperwork is in place in time to begin fall classes Aug. 20. Do everything as early as possible to get the best choices for desired classes. Early completion and submission of paperwork when applying for financial aid is wise, too. Sometimes the financial aid process can take a while, so getting started now helps to ensure that aid is in place.
To get started, visit FTCC's website, www.faytechcc.edu, and click "Apply" when the pop-up box appears on the home page. Or, click "Admissions Info" from the dropdown menu at the top of the home page to learn a great deal of information about applying to FTCC. The FTCC Financial Aid webpage shares a direct link to the free, online College Foundation of North Carolina application used by FTCC. Students can also view videos and helpful information about available financial aid opportunities.
Once a student has completed and submitted the application, FTCC sends an email to the student's email address used in the application. FTCC also sends a hard-copy letter to the physical address recorded on the CFNC application. The email outlines the steps for admissions and provides links to forms to request a transcript from high school or other colleges, links to financial aid, the assessment and placement office and links to connect with an FTCC admissions counselor. The email also contains links to Veteran's Services and military websites, a health programs admissions counselor and counselors at FTCC's Spring Lake Campus and Fort Bragg Education and Training Center.
Students will also receive a letter from FTCC providing login and password set-up information for student email and WebAdvisor accounts. This occurs early on, prior to class registration. It is important for new students to check student email and WebAdvisor accounts regularly, as these are the primary methods of communication. WebAdvisor allows applicants and students to manage financial aid, register for classes, contact an advisor, view grades, request transcripts and set up an interest-free payment plan (for students who pay tuition out of pocket).
Once the FTCC application is complete, students should visit www.FAFSA.gov. Services provided through FAFSA.gov are provided free of charge. Any website that charges fees for services related to financial aid assistance for education is not the right website. Apply for the academic year 2018/2019. Be prepared with tax documents. Most students who live at home will use their parents' income information, but extenuating circumstances may change that. Visit the Tony Rand Student Center at the Fayetteville campus for help in answering questions about financial aid.
FTCC is proud to offer face-to-face, personal assistance. Visit the Tony Rand Student Center to begin the first step for fall classes – and to a brighter future through education at FTCC.